This Year's Honoree: Dr. Robert Smith, M.D. '57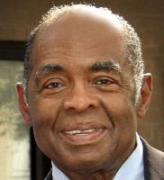 Dr. Robert Smith, M.D.'57 will be awarded the "Living Legend Light of Justice Award" at this year's Two Rivers Gala | Tougaloo Honors, Saturday, May 19, 2018 at the Jackson Convention Complex.
This award recognizes individuals who have made matchless contributions, been a most-influential force in the state and nation, and dedicated themselves to improving the lives of others throughout their entire careers.
Smith was recently honored by the American Medical Association with the "Medal of Valor Award" in Honolulu for fighting social injustice and providing health care to all Mississippi citizens during the civil rights era. Smith has been president and chief executive officer at Central Mississippi Health Services, originally Mississippi Family Health Center, since its founding in 1963. He is also the co-founder of the Mississippi Primary Health Care Association.
Honoring the Past, Shaping the Future
Over the past five years (2013-2017), Tougaloo College hosted its signature Two Rivers Gala | Tougaloo Honors. The premier event recognizes visionary and courageous individuals who through their life's work have made transformational contributions to society. The inaugural gala paid homage to civil rights icons and served as a precursor to the 50th Anniversary of the Civil Rights Movement. Following, we celebrated ordinary people who made extraordinary contributions to promote the principles of social justice, equality, leadership, and service throughout our state and nation; the contributions of prominent women whose lives epitomize the very definition of "intrepid"—resolutely courageous, fearless, and bold—who have made indelible marks in their professions and society; Mississippi icons who reached the pinnacles of success in their chosen careers, excelling in the areas of education, social activism, entrepreneurship, creative genius, journalism, and sports; and native Mississippians whose public service, professional achievements, and relentless call to action changed the course of history in the state and nation.
This year's Two Rivers Gala | Tougaloo Honors will salute Tougaloo College, the "Beacon of Light," shining a light on the people, legacies, traditions, and milestones that have made it the institution it is today.
As the College prepares to celebrate its Sesquicentennial Anniversary, the Gala will set the stage for Tougaloo to celebrate 150 years of transformational impact it has had on producing graduates who are responsible leaders and citizens throughout the world. The journeys and careers of these graduates have been influenced by notable and inspiring visionaries, leaders, scholars, and activists. Tougaloo seeks to continue its legacy of being a "Beacon of Light" for future generations of icons, change agents, and trailblazers to rise to new heights.
A storied and proud history of 150 years deserves a fitting celebration.