SGA President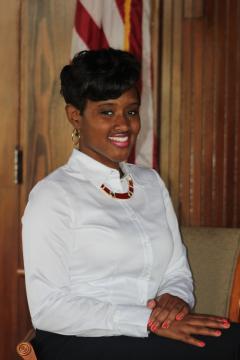 Diva Whalen is a senior biology major at the Historic Tougaloo College from Clinton, MS.  She graduated from Clinton High School and began her journey at Tougaloo in 2011. 
Along with her President position in the Tougaloo Student Government Association, she is a member of Beta Beta Beta national honors biological society, Sigma Xi national research society, and National Association for the Advancement of Colored People. 
At Tougaloo, she is an HBCU- up scholar, Jackson Heart Study Scholar, and Presidential I scholar. This summer she paticipated in the University of Mississippi Medical Center (UMMC) HBCU prostate cancer training program which prepares undergraduates for graduate level research. 
When the 2014-2015 academic school year begins, Diva will lead the Tougaloo College student government association in the PRIMETIME campaign in which they will continue to build upon the open communication between the students and administration by holding town halls and publishing a monthly newsletter that addresses all students' concerns.