SGA President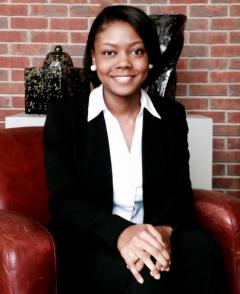 Acacia Cooper
Acacia Cooper is a senior biology major from Jackson, MS. She graduated from Northwest Rankin High School and began her journey at Tougaloo in 2012. In addition to serving as the President of the Student Government Association, she is a member of Beta Beta Beta National Biological Honor Society, Sigma Xi National Research Honors Society, Alpha Lambda Delta Honors Society, Pre-Health Club, Pre-Alumni Council, and F.A.M.E. During her spare time, Acacia volunteers at Community Animal Rescue and Adoption (C.A.R.A.), Mississippi State Research Laboratory, and tutors biology.
Acacia is a Presidential II Scholar and a Jackson Heart Study Scholar, which afforded her a summer research opportunity at Virginia Tech Multicultural Academics Opportunities Program (MAOP). This program prepares undergraduates for graduate level research.
For the 2015-2016 academic year, Acacia will be leading the SGA and Tougaloo College with her "We are the Change" campaign, which will change the dynamic of the student and administration relationship by building communication through general body meetings, newsletters, and social media. Acacia's motto is, "If you really want to do something, you will find a way. If you do not you will find an excuse."
SGA Vice President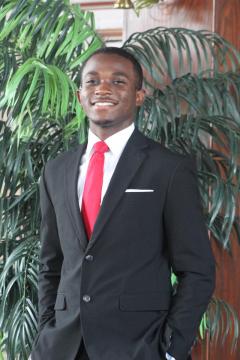 Spencer D. Davis
Spencer D. Davis is a junior English major from Greenville, MS. After graduating from Greenville-Weston High School, Spencer began his journey at Tougaloo College in 2013. Since entering the gates of Tougaloo, he has served in several leadership and service capacities including: the 2013-2014 Freshman Class President, Vice President of the Tougaloo Ambassadors and Meritorious Scholars, Business Manager of the Tougaloo Male Initiative, and a member of the Mississippi Student Justice Alliance.
In 2014, Spencer served as Mister United Negro College Fund of the Tougaloo College Pre-Alumni Council, through which he was active in the education of Jackson-area high school students and his collegiate peers on the importance of education and scholarships. He is also a recent inductee of the Sigma Tau Delta International English Honor Society and a strong believer in the importance of not only literacy but also education, particularly at Historically Black Colleges & Universities.
During his tenure as Student Government Association Vice President, Spencer plans to make a P.A.W. P.R.I.N.T.: "Promote Activities that are Worthwhile & Progressive as we Relieve Issues and Nourish Tougaloo." By establishing a more direct line of communication to student leaders, enforcing the standard of accountability for the entire campus, and ensuring that there is a creative space for every member of the student body, faculty, staff, administration, and alumni, he believes Tougaloo College can make an even greater and lasting impact on campus and abroad.