Paul A. Scott, Sr.
Director of Recruitment
601-977-6180 (Office)
601-502-4393 (Business Cell)
pscott2@tougaloo.edu

D'Awana L. Bledsoe
Director of Admissions
601-977-7919
dlbledsoe@tougaloo.edu
Follow us on IG @tcrecruitment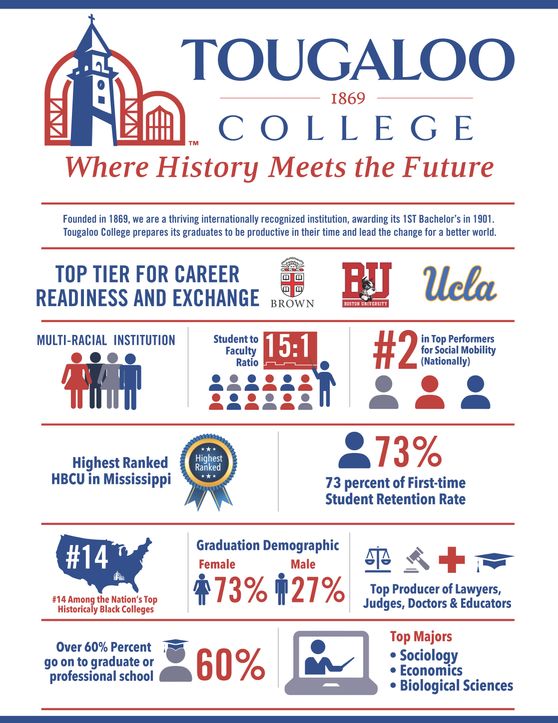 Tougaloo College Rankings
Tougaloo College ranks #9 out of 99 historically black colleges and universities by Best Colleges.com (2016).
Tougaloo College ranks #7 out of 10 historically black colleges and universities for having rigorous academic programs and providing a quality education (2015).
Tougaloo College ranks among the top 25 (#21) liberal arts institutions in the nation by the Washington Monthly (2014).
Tougaloo College ranks #25 among the top U.S. institutions whose graduates earn their Ph.D.s in the science and engineering disciplines (2014).
Tougaloo College ranks #15 among historically black colleges and universities in the graduation of females with undergraduate degrees in the physical sciences (2014).
The Affordability and Value of a Tougaloo Education
We are committed to making Tougaloo accessible and affordable for all students and their families.  As you might expect, an education of Tougaloo's quality is not inexpensive. But, there is good news—there are many sources of financial assistance available, including a willing team of financial aid counselors to talk you and your family through the process. Some important facts that may interest you:
Tougaloo College ranks #23 out of 1222 U.S. institutions in the rankings for best economic value by the Educate to Career (ETC) College Rankings Index (2015).
Eighty-five percent of first-year students at Tougaloo College receive some type of guaranteed financial aid.
Important Tougaloo Facts
First-class education in a family atmosphere and supportive learning environment
18:1 student/faculty ratio ensuring small class sizes and personalized attention for all students
A distinguished and multi-racial faculty, where 70 % hold terminal degrees in their fields
Over 60% of our graduates go to graduate or professional school immediately after graduation
Student/Faculty research opportunities
General Statement
Admission requirements, deadlines and fees are subject to change without prior notice.  All documents submitted to Tougaloo College will not be released to students or other institutions.  Admission applications and transcripts are destroyed after one year for students who do not attend. Making false or misleading statements on the application or failing to list all institutions attended may result in cancellation of admission status and/or loss of credit
International Admissions
The College considers international students to be those individuals whose country of origin is outside the United States. International students shall meet all of the requirements as any other student who seeks admission to the College.
Undergraduate:
A completed application
Official transcripts from each post-secondary school attended (a required 2.00 GPA)
SAT or ACT scores, (if transferring with less than 15 earned credits)
Evidence of proficiency in the use of the English Language in verbal and written forms. A score of five hundred (500) on the Test of English as a Foreign Language (TOEFL) administered by Educational Testing Service, Princeton, New Jersey, or proof of passing the test given by the English Language Institute (ELI).
Complete and accurate information regarding sources of financial support to determine eligibility for Form I-20. This information is required by the College in order to meet the regulations of the United States Immigration and Naturalization Service. International students must be financially independent and able to meet their financial obligations, in the form of an affidavit of support. Federal Financial aid is not available to foreign students.
Contact Information
We are here to help you! Feel free to call, visit, or write the Office of Admissions:
Mailing Address:
Tougaloo College
Office of Admissions
500 West County Line Road
Tougaloo, MS 39174
601-977-7772
Campus Location:
Admissions Building: to the right of the security gate at the front entrance of the campus.