The Office of Student Affairs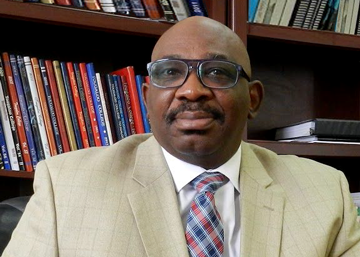 I am excited to welcome you to Tougaloo College. Student Affairs staff members are prepared to assist you in achieving success and making your dreams a reality. We offer an array of support services in such areas as counseling, career services, student activities, Greek life, campus safety and residential life.
We are here for you. The spirit of Tougaloo College is evident in the administration, faculty and staff. We stand ready to support you through your higher education journey. We will help you identify ways to get connected, challenge you to "Build Your Personal Brand" and share opportunities that Tougaloo has to offer. The College provides students with a sense of family, love, protection and challenge, which enables them to aim high and become successful.
Here, at the Eagle Queen, we celebrate the past, present and future. We boast an exciting student-centered education where students thrive in our total learning environment. Our students are being prepared to compete in a global society on a campus that is conducive to high educational pursuits. Our academic programs, student life experiences, and athletic and social activities engage students in a captivating way. Our individualized student relations offer great customer service that assists students in every step of their path to success.
We are elated to have you join our family! There is truly a place for you at Tougaloo College, and whatever your dreams and aspirations are, you can achieve them here.
Sincerely,
Eric W. Jackson, Sr., Ph.D.
Vice President for Student Affairs/Dean of Students
Contact Information
We are here to help you. Feel free to call, email, visit, or write the Office of Student Affairs:
Mailing Address:
Tougaloo College
Office of Student Affairs
500 West County Line Road
Tougaloo, MS 39174
   601-977-7813
   601-977-4495 (fax)

 

 

Campus Location:

 
Jamerson Hall

 
 
 

Office Hours:

 
Monday - Friday: 8am - 5pm

 
 
 
 

 

Whitney McDowell Robinson, Ph.D., NCC
Director of Career Pathways/Career Services
   601-977-7815
   wmcdowell@tougaloo.edu

Camille J. Wilson
Office Manager for Student Affairs
   601-977-7814
   cwilson@tougaloo.edu

 

Rosie Harper, Ph.D.
Director of Counseling Services
   

601-977-7818


   rharper@tougaloo.edu

Larry Johnson, D.Min.
College Chaplain
   

601-977-7758


   ljohnson@tougaloo.edu

 

Tracey Paul

Director of Residential

Life
   601-977-7819
   tpaul@tougaloo.edu

Earl Sanders

Director of Student Activities

   601-977-6186
   esanders@tougaloo.edu

 

Edna Drake
Chief of Public Safety
   

601-977-7876


   edrake@tougaloo.edu

Gregory T. Waters
Lieutenant of Public Safety
   

601-977-4419


   gwaters@tougaloo.edu

 

Clifton Paige
Lieutenant of Public Safety
   

601-977-7817


   cpaige@tougaloo.edu

 
 
 top