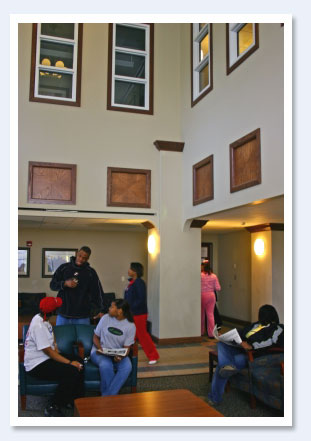 The Mission of the Department of Residential Life is to provide a high quality residential living experience and to promote co-curricular living-learning environment for Tougaloo College students. Concerned with all aspects of campus living at Tougaloo College, the Department of Residential Life achieves its mission by providing an opportunity for group living, academic achievement, and social maturation in a democratic and diverse community. The extent to which students benefit is largely dependent upon their levels of involvement in the planning and implementation of campus and residential activities. The department supports the principle of initiative, which acknowledges that students must accept personal responsibility for their development.
Residential Life personnel are responsible for the development and implementation of programming that fosters an effective living and learning environment. The goal is to enhance the social, educational, cultural and personal growth of each student. A positive climate in the residence hall promotes self-discipline, self-direction, and participation in the community.
The residence halls provide an opportunity for group living, academic achievement and social adjustment in a democratic environment. The degree to which a student benefits depends on his/her participation in the planning and implementation of activities and his/her acceptance of personal responsibility for growth and development.

 Residential Life Handbook
Residence Hall Policies
Reservation Fee
In order to be admitted to the residence halls, a student must pay a $50.00 room reservation fee ($20.00 processing fee, $30.00 key fee). The room reservation fee is an annual, non-refundable fee for ALL students living in College housing.
Assignment Confirmation Card 
A Housing Assignment Confirmation Card is issued to each student in July upon submission of a housing application and payment of the reservation fee. During arrival for semester beginnings and official registration, the card should be presented to the Residential Hall Coordinator for actual occupancy status to be activated.
Housing Contract
Each student must sign a Housing Agreement in regards to his/her responsibility for the contents and conduct within the room. The Contract process also includes an Inventory Form that each resident must sign during the initial check-in process. Students will be held completely liable for all furniture and room contents indicated on the form.
Residence Hall Withdrawal Process
Students must officially withdraw from a residence hall in order to avoid room and board charges by the College's Business Office. A Residence Hall Withdrawal Form must be completed by the resident, and signed and dated by a Residential Hall Coordinator.
Room/Roommate Assignments
Upperclassmen may select rooms and roommates during a special spring early reservation process. This process is coordinated through the Department's main office and payment of the annual room reservation fee is made to the Business Office by way of the College's Cashier. The student must state his/her preference for room and roommate.
Housing assignments are generally made through a random process. However, new students who will be living on campus for the first time may make specific roommate requests on the housing application. Every effort will be made to honor room and roommate preferences. Both applications and reservation fees must be processed in order to honor a special request. July 1st is the priority deadline for housing applications and roommate preferences. Any special requests received after July 1st are less likely to be honored. Annual housing assignments are made on a first come, first serve basis until all bedding space is allocated.
Room Changes
Students must request room changes in writing during each semester's Room Adjustment and Consolidation Period. All room changes must be approved by the Residence Hall Coordinator and coordinated through the departmental main office.
Contact Information
Albert Goines
Director of Residential Life/
Coordinator of Judicial Affairs
   601-977-7819
   agoines@tougaloo.edu
Kimberly Alcorn
Area Coordinator
Residential Hall Coordinator: New Womens
   601-977-4418
   kalcorn@tougaloo.edu
Melinda Houston
Residential Hall Coordinator: Renner Hall
   601-977-4421
   mhouston@tougaloo.edu
 
LaToya Haymer
Residential Hall Coordinator: Renner Hall
   601-977-4421
   lhaymer@tougaloo.edu
 
Roger Moore: AA Branch
Residential Hall Coordinator
   601-977-4413
   rmoore@tougaloo.edu
 
Lawrence Kelly: Berkshire Hall
Residential Hall Coordinator: A.A. Branch Hall
   601-977-4430
   lkelly@tougaloo.edu