The primary focus of the Office of International Programs is to encourage, inspire, advise and assist Tougaloo College students, faculty, staff, the local and foreign community to develop international skills through education and community service and to live and work in cultures beyond the boundaries of the countries in which they live in order to be better prepared for stewardship and leadership positions in the inevitable globalization of the planet. Our secondary focus is to extend like opportunities and services to international faculty and students. We invite foreign nationals to pursue their four year degree at Tougaloo College.

Study Abroad
Get your passport:
Come to Tougaloo
Welcome letter with Admission and Application Instructions

* International Student Application
* Accepted test scores: TOEFL Paper based 500, 173 computer based, & 60 for iBT. We also accept the IELTS with a 5.0.

Medical Form

Housing Application

Academic Calendar
About Tougaloo College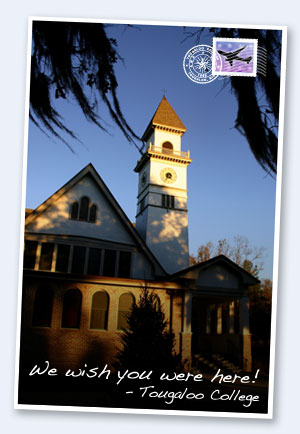 Founded in 1869, Tougaloo College is a liberal arts institution that prepares students to be imaginative, self-directed thinkers, and lifelong learners who are committed to leadership in a global society. Accredited by the Commission on Colleges of the Southern Association of Colleges and Schools, Tougaloo College offers 29 majors within the Divisions of Education, Humanities, Natural Science and Social Science. Tougaloo College continues to be a value-oriented community where quality education is applied to prepare students to be recognizable leaders who will share in the decision making and the innovation of concepts in the world in which we are connected.
Tougaloo College is serenely located adjacent to Madison, Ridgeland, and Jackson, MS. Tougaloo College is nearly a 3 hour drive to Memphis, Tennessee, and New Orleans, LA; and a 3 1/2 hour drive to Gulfport and Biloxi, MS.
Reasons to Study at Tougaloo College
Clean, safe, and peaceful! Located in the quiet Tougaloo community adjacent to Jackson, Madison, and Ridgeland, Mississippi
Small class sizes with friendly professional teachers
Tuition fits your budget
Our Intensive English Program directs you from ESL to regular college classes
Friendly and helpful International Programs staff to assist you will all your needs
SACS accredited
Most to all of your credits may transfer to any major U.S. institution
Four-year degrees available from 29 majors
The climate is conductive to many outdoor activities including biking, hiking, water skiing, and other water activities
Many shopping areas are only minutes from the campus
Contact Information
We are here to help you! Feel free to call, email, visit, or write Center for International Studies and Global Change:
Contact:
Dr. Loye Ashton
Director of Center for International Studies & Global Change
Office located in One Jackson Place
 601-977-7944
 601-977-6148 (fax)
 lashton@tougaloo.edu

Ms. Diedra Winters
Study Abroad Coordinator
Office C, One Jackson Place
 601-977-7916
 601-977-6148 (fax)
 dwinters@tougaloo.edu

Campus Location:
One Jackson Place

Mailing Address:
Tougaloo College
CISGC
Box 90
500 West County Line Road
Tougaloo, MS 39174