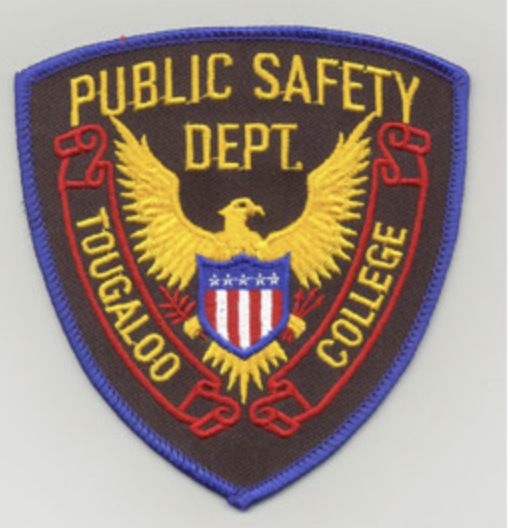 For emergencies and non-emergency calls, 24 hours a day, contact 601-977-7857 or 601-813-5869.
The primary role of the Department of Public Safety is to maintain an orderly and safe collegial atmosphere for faculty, staff, students, and visitors that are conductive to learning. The Office has responsibility for the management of campus parking, fire and crime prevention, emergency medical assistance and overall campus safety. The officers also provide logistical support for large campus events and offers special education programs on safety and personal protection. The Chief of the Department is the senior administrator in the office and reports directly to the Vice President for Enrollment Management and Student Services to enhance communication between Tougaloo students and the Department to address student concerns.



 Annual Security and Fire Safety Report 2021-2022

 Emergency Management and Disaster Preparedness Plan

 "CSA's" Crime Incident Report Form
Values of Public Safety
Integrity: For the most part, the community's trust and confidence in campus security will be earned by the integrity of its security officers. All Public Safety officers are expected to conduct themselves in a manner that is fair, ethical, legal and which exhibits a sense of duty and honor for the position entrusted to them.
Justice: The administration of law and order is based upon the ideal of justice for all and the preservation of constitutional rights. The fulfillment of that idea requires a commitment by Public Safety officers to protect citizens and to strive to ensure that citizens will be treated with Respect, Dignity and Fairness.
Service: As members of the security profession, Tougaloo College Department of Public Safety recognizes the significance of serving the public. As such, all Public Safety employees are duty bound in their commitment to providing excellent service.
Trust: The College community has entrusted the Department of Public Safety to exercise its authority with discretion, good judgment, respect, and a commitment to honest, justice and diversity. Each member of Public Safety strives to build upon the trust and confidence of the students, faculty/staff and general public.
Our Vision
The vision of Tougaloo College Department of Public Safety is to become a model and recognized leader in higher education campus safety by providing the public with quality security service and protection.
Specific Duties of Officers:
Enforce the rules and regulations of Tougaloo College
Direct parking and control the flow of traffic (human and vehicles) on campus.
Patrol the buildings, campus grounds and the surrounding property of Tougaloo College
Investigate automobile accidents and file an immediate report.
Serve summons for civil offenses.
Detain persons for Jackson Police Department
Communicate with all segments of the campus population students, faculty, administration, as well as guests who come to Tougaloo
Report lost and found, missing or stolen items immediately to the Chief of Public Safety.
Lock and secure all buildings after working hours.
Make a special report of any incident or violation.
Assist with all emergencies.
Be alert to strange cars parking in and around the President's Home and the residential area on campus.
Question any operator of college vehicles after 5pm
Make certain any operator of a campus vehicle either on or off campus, has a driver's license.
Provide special educational programs on the safety and protection of individuals.
Contact Information
We are here to help you! Feel free to call, email, visit, or write the Department of Public Safety:
Mailing Address:
Tougaloo College
Department of Public Safety
500 West County Line Road
Tougaloo, MS 39174
Campus Location:
One Jackson Place on College View Drive
Contact:
Jesse Robinson
Chief
 601-977-7876
 jlrobinson@tougaloo.edu
Juan Gray
Assistant Chief
 601-977-7817
 jgray2@tougaloo.edu
Sammie Neal
Lieutenant of Emergency Management
 601-977-4419
 sneal2@tougaloo.edu