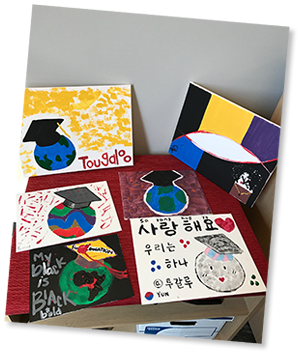 If you are interested in studying abroad, your first step is to complete the Education Abroad Questionnaire. We will contact you to schedule a meeting to discuss your education abroad options.
If you are interested in studying abroad, then you will need to get a United States passport. The Center has developed Passport 101, to assist you, if you still have questions feel free to contact the Center for International Studies and Global Change.
Third-party Providers
The following study abroad providers are authorized providers for Tougaloo College.
There are plenty of programs to choose from!
American Institute for Foreign Study
As a leader of cultural exchange and international educational opportunities, the American Institute for Foreign Study (AIFS) has sent over 1.5 million people abroad since its establishment in 1964. Each year, the organization awards deserving students and universities with over $800,000 in financial support, grants, and scholarships, with funds available for both summer and semester programs.
Council on International Educational Exchange
CIEE: Council on International Educational Exchange a nonprofit, nongovernmental organization, CIEE is the country's oldest and largest nonprofit study abroad and intercultural exchange organization. Since 1947, CIEE has helped thousands of people gain the knowledge and skills necessary to live and work in a globally interdependent and culturally diverse world.
Knowledge Exchange Institute
The Knowledge Exchange Institute was founded in 1997 on the belief that study abroad should go beyond liberal arts education and cultural exchange to include discipline-specific studies and professional development.
From the beginning, KEI worked to develop affordable comprehensive programs that integrate courses, internships and cultural interaction. Our goal was, and continues to this day, to provide education abroad programs that allow students to gain practical experience and enhance their understanding of the world through cultural and social immersion.
World Endeavors
World Endeavors offers four meaningful ways for participants to go abroad: interning, studying, volunteering, and customized group programs. Each offers a different type of immersive experience in the host country and suits the needs of a different kind of traveler.
Our interactions with our participants are very personal. We will ask about goals and needs. We will listen and suggest. We offer the most customizable options for the best value. We offer dynamic programs that challenge our participants.
African Impact
African Impact creates life changing journeys. They are pioneers in the volunteer travel industry and experts in responsible volunteering and internships in Africa. They invite students to join their passionate teams and to experience projects that they have built and grown, hand-in-hand with local communities, since 2004. This is volunteering, redefined.
Educational Travel Adventures
Educational Travel Adventures has taken thousands of students on tours throughout the world. ETA knows that there is no tool more powerful than seeing your classroom come to life in the real world. That's why they strive to provide unique learning opportunities that meet your specific educational goals, making each of our programs the educational experience of a lifetime for your students.
CISabroad
CISabroad is COMMITTED to giving the best value in study abroad. When comparing programs, they take into account ALL of the features: affordability, support, cultural immersion and academic relevance. CISabroad is dedicated to sharing positive transformation students. For nearly 20 years, they have been providing eye-opening, culturally immersive, academic experiences to students from all over the U.S.
Benjamin A. Gilman International Scholarship
The U.S. Department of State's Benjamin A. Gilman International Scholarship is a grant program that enables students of limited financial means to study or intern abroad, thereby gaining skills critical to our national security and economic competitiveness.
The Gilman Scholarship Program is open to U.S. citizen undergraduate students who are receiving Federal Pell Grant funding at a two-year or four-year college or university to participate in study and intern abroad programs worldwide.
Institute of International Education (IIE)
For nearly a century, the Institute of International Education (IIE) has been a world leader in international education. We work to build more peaceful and equitable societies by advancing scholarship, building economies and promoting access to opportunity. As a not-for-profit with 18 offices and affiliates worldwide, IIE collaborates with a range of corporate, government and foundation partners across the globe to design and manage scholarship, study abroad, workforce training and leadership development programs.
NAFSA: Association of International Educators
NAFSA: Association of International Educators is the world's largest nonprofit association dedicated to international education and exchange. NAFSA's 10,000 members are located at more than 3,500 institutions worldwide, in over 150 countries.
NAFSA believes that international education advances learning and scholarship, fosters understanding and respect among people of diverse backgrounds and perspectives, is essential for developing globally competent individuals.
Boren Scholarships
Boren Scholarships, an initiative of the National Security Education Program, provide unique funding opportunities for U.S. undergraduate students to study less commonly taught languages in world regions critical to U.S. interests, and underrepresented in study abroad, including Africa, Asia, Central and Eastern Europe, Eurasia, Latin America, and the Middle East. The countries of Western Europe, Canada, Australia, and New Zealand are excluded.
Boren Scholars represent a vital pool of highly motivated individuals who wish to work in the federal national security arena. In exchange for funding, Boren Scholars commit to working in the federal government for at least one year after graduation.
The Critical Language Scholarship Program
The Critical Language Scholarship (CLS) Program is an intensive overseas language and cultural immersion program for American students enrolled at U.S. colleges and universities. The program includes intensive language instruction and structured cultural enrichment experiences designed to promote rapid language gains.
CLS is part of a wider government initiative to expand the number of Americans studying and mastering foreign languages that are critical to national security and economic prosperity. CLS plays an important role in preparing students for the 21st century's globalized workforce and increasing national competitiveness.
The Critical Language Scholarship Program is a program of the United States Department of State's Bureau of Educational and Cultural Affairs. It is supported in its implementation by American Councils for International Education.
Global Engagement Institute
Global Engagement Institute mission is to be the most trusted partner for short-term study abroad, internship and professional development programs in Africa and Southeast Asia. They are committed to meeting the highest standards of academic and professional quality as well as ensuring the health and safety of our participants. What truly sets them apart, however, is their passion for sustainable development. GEI strongly desire to inspire and empower our participants and the communities they engage with to make a significant reciprocal impact and to create positive change in the world.
Faculty-Led Programs
CISGC is currently working with a number of Tougaloo faculty to develop custom-designed faculty-led study abroad programs for undergraduate students. These faculty-Led Study Abroad Programs will be administered by CISGC in partnership with faculty and staff program leaders. If you are interested in joining a class with a student abroad component, please make initial inquiries with your professor, academic advisor or CISGC.
Special Projects

The ALLEX Foundation
The ALLEX Foundation (Alliance for Language Learning and Educational Exchange) was founded with the primary mission of advancing global understanding and intercultural exchange through education. They advance that mission with programs that encourage the establishment of high quality East Asian language programs at educational institutions in the United States and Canada. At the same time, their programs offer unique study abroad opportunities in the United States for Chinese, Japanese and Taiwanese nationals.
They believe that learning a foreign language is the gateway to understanding and appreciating other cultures, and that training expert language teachers goes hand in hand with propagating foreign language study.

Atlantis
Atlantis (formerly The Atlantis Project) was founded in 2007 and has grown over the past decade into one of America's leading global healthcare education organizations. The Atlantis headquarters and team are based in Washington, D.C and manage The Atlantis Fellowship, which is offered in Europe and Latin America.
The mission is to equip the next generation of global medical leaders to pursue their callings passionately. We want every Fellowship program we run to reflect a deep concern for ethical solidity, educational value and innovative thinking.
The Fulbright U.S. Student Program
The Fulbright U.S. Student Program provides grants for individually designed study/research projects or for English Teaching Assistant Programs.  A candidate will submit a Statement of Grant Purpose defining activities to take place during one academic year in a participating country outside the U.S.
During their grants, Fulbrighters will meet, work, live with and learn from the people of the host country, sharing daily experiences.  The program facilitates cultural exchange through direct interaction on an individual basis in the classroom, field, home, and in routine tasks, allowing the grantee to gain an appreciation of others' viewpoints and beliefs, the way they do things, and the way they think. Through engagement in the community, the individual will interact with their hosts on a one-to-one basis in an atmosphere of openness, academic integrity, and intellectual freedom, thereby promoting mutual understanding.
Travel Assistance

STA Travel
STA Travel is the world's largest student and youth travel company, we've been booking affordable adventures for awesome humans since 1979. Experts in Round the World flights, tours, accommodation and good vibes - whatever your adventure, it starts right here.

US Department of State
The US Department of State functions as the diplomatic wing of the federal government, handling matters of foreign affairs with other nations and international bodies. The State Department's primary job is to promote American foreign policy throughout the world. On the website you can find organizational and travel resources, contact information and other publications.

Centers for Disease Control
The CDC is one of the major operating components of the Department of Health and Human Services. View CDC's Official Mission Statements/Organizational Charts to learn more about CDC′s organizational structure.  CDC works 24/7 to protect America from health, safety and security threats, both foreign and in the U.S. Whether diseases start at home or abroad, are chronic or acute, curable or preventable, human error or deliberate attack, CDC fights disease and supports communities and citizens to do the same.