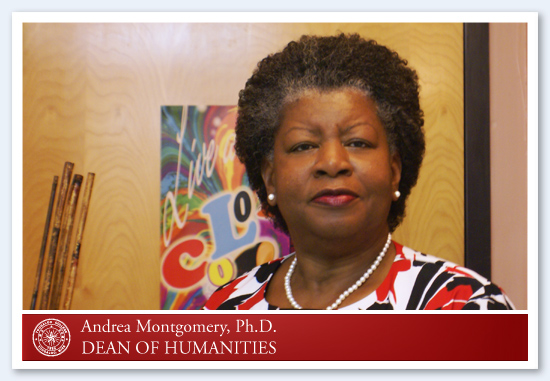 On behalf of our faculty and student majors, we welcome you to the Division of Humanities. I invite you to explore this website and experience the excitement found within the Division's Mission Statement as well as the Mission Statements of each Department. While providing courses and experiences for General Education, major degree programs, and cultural enrichment for the campus and community, the Division of Humanities embodies the 'liberal arts' concept of education. All disciplines explore different ways of knowing, thinking, speaking, perceiving, and production. Students explore works of the human imagination and intellect from around the world, while exercising their own mind's creativity.
The Humanities Division has five departments that offer Bachelor of Arts degrees. They are: Art, English, Interdisciplinary Career Oriented Humanities Major (ICOHM), Mass Communications, and Music. The Associate of Arts is offered in our Religious Studies Program. Other areas of study are foreign languages, speech, creative writing, and drama.

Through our various scholarly clubs and organizations, performance ensembles, fine and performing arts events, and print media production, we are committed to empowering our students in the achievement of academic success.
Our faculty is consistently engaged in research and creative scholarly work, receiving local, national, and international recognition. Our student majors are mentored and continue to achieve academic excellence while remaining intellectually and socially engaged. The realization of such engagement will ultimately improve the quality of our social, economic, and cultural life. Visit the Tougaloo College website often to view upcoming events and programs within the Division of Humanities!
Andrea Montgomery, Ph.D.
Dean of Humanities
  601-977-4431
  amontgomery@tougaloo.edu