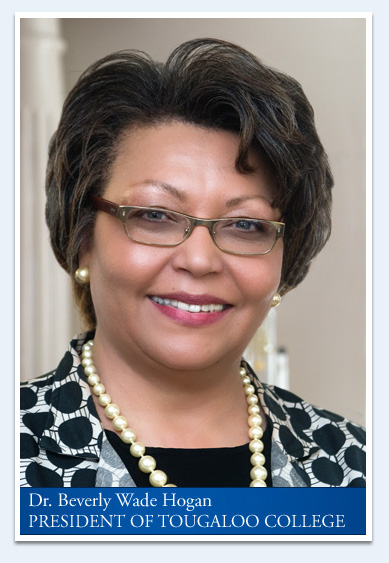 Beverly Wade Hogan has served as President at Tougaloo College since May 2002. She is the first woman and the 13th president to lead this historic institution.
Hogan is often described as a visionary, an innovative and strategic thinker, and disciplined, compassionate, firm, fair, analytical and spiritual leader. Under her leadership, new undergraduate degree programs in mass communications, hotel and hospitality management and religious studies as well as two graduate degree programs have been added. A new Honors Program and three centers have been established—the Center for Undergraduate Research, the Center for Continuing/Online Education, and the Center for International Studies and Global Change. The College was designated as a Center of Excellence in Transportation Security by the U. S. Department of Homeland Security and selected as one of seven institutions to participate in the Campus Resilience Project. Significant technological improvements have been made, including campus wide connectivity, smart classrooms and wireless networks and the construction of the Bennie G. Thompson Academic and Civil Rights Research Center.
Prior to becoming President, Hogan served as the College's Interim President, Vice President for Institutional Advancement and founding director of the Owens Health and Wellness Center. An effective and committed leader, she served as the Commissioner for the Mississippi Workers' Compensation Commission, the Executive Director of the Governor's Office of Federal State Programs and the Executive Director of the Mental Health Association in Hinds County and the state of Mississippi, respectively. She has been an adjunct instructor in leadership and public policy at Jackson State University and a frequent guest lecturer at the University of Mississippi and Mississippi State University. Additionally she has been involved with employment and educational training programs in Denmark, Sweden and West Germany in affiliation with the German Marshall Fund. She has been a scholar with the Kettering Foundation where her research focus was Higher Education and Civic Responsibility, a participant and presenter in the Oxford Roundtable at Oxford University in Oxford, England and a participant in leadership seminars at Harvard University.
Hogan earned her Bachelor of Arts degree in psychology from Tougaloo College and masters in public policy and administration from Jackson State University. She has done additional studies in clinical psychology at the University of Southern Mississippi and University of Georgia. She engaged in further doctoral studies in human and organizational development at Fielding Graduate University. She holds Honorary Doctorates from Wiley, Rust and Benedict Colleges and Brown University, and has earned numerous professional certificates in leadership development, organizational management and administrative law.
Hogan has received extensive recognition for her trailblazing contributions. Among her extensive roster of achievements, she is the founder of the first psychiatric halfway house in the state of Mississippi. She has authored and published works on topics such as "The Dissonance Analysis of the Viet Nam War," "Comparable Worth—the Challenging Issue of Pay Equity," Jobs and Economic Growth," "Public Policy Implications of AIDS in the Workplace," "Higher Education and Civic Responsibility" and "Gender and Race" as a chapter in a textbook, Leadership and Service, published in 2008.
Active in an array of professional and civic organizations, Hogan serves on various boards, including Bancorp South, Sanderson Farms, the Jackson Medical Mall Foundation and RAND's Gulf States Policy Institute. She is also a member of the national board of directors for the United Negro College Fund. Hogan was appointed by President Barack Obama to serve on the President's Board of Advisors on HBCUs. She is also a founding member and former president of the Central Mississippi Chapter, National Coalition of 100 Black Women, and a member of Alpha Kappa Alpha Sorority and the Links, Inc.
She and her husband Marvin have two adult sons and six grandchildren.
Contact Information
We are here to help you. Feel free to call, email, visit, or write the Office of the President.
Mailing Address:
Tougaloo College
Office of the President
500 West County Line Road
Tougaloo, MS 39174
 601-977-7730
 601-977-7739

Campus Location:
Blackmon Building: 2nd Floor

Contact:

Dr. Beverly Wade Hogan
President
  601-977-7730
  bhogan@tougaloo.edu

Yasmin Gabriel, Esq.
Special Assistant to the President/
Title IX Coordinator
  601-977-7718
  ygabriel@tougaloo.edu

Vicky Clanton

Administrative Assistant to the President

  601-977-7732

  vclanton@tougaloo.edu