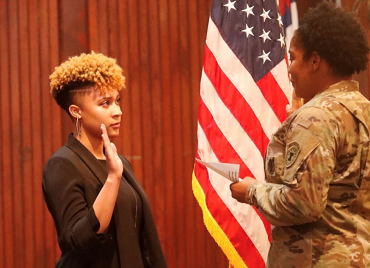 One Tougaloo honor student is closer to achieving her goal of degree completion and pursuing her dream of becoming a medical doctor. Tougaloo administrators, faculty, staff, students, alumni and friends witnessed and applauded senior biology major, Ahsia Clayton, after being commissioned as a 2nd Lieutenant into the U.S. Army on November 29th, in addition to receiving a medical scholarship check for nearly $400,000. Clayton plans to serve as an active duty officer and physician.
"My family has a rich history in all branches of the United States military. I initially thought joining the military only meant physically fighting on the front line but learning about the Army's Health Professions Scholarship Program changed my entire perspective," says Clayton. The program helps students pay for an advanced medical degree in exchange for a commitment of eight years to the military. "The program helped me to realize that the Army is committed to selecting and developing future physicians," said Clayton.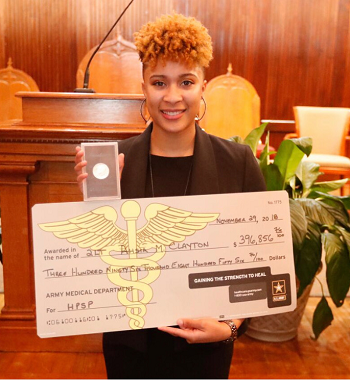 "I found out about the scholarship through a classmate, Timera Brown, who was the first Tougaloo student to receive it. Although the scholarship application process was rigorous, my Tougaloo experience taught me how to persevere and to be confident in the pursuit of any endeavor. I also owe a great deal of gratitude to my professors who encouraged me throughout the process, said Clayton.
"I am so proud of Ahsia and honored that she has been given this opportunity. This scholarship is highly competitive and having two scholars selected in two consecutive years is a tremendous accomplishment for Tougaloo College and the Jackson Heart Study Program. I am confident that the Army will get a favorable return on its investment in Ahsia and Timera," said Dr. Wendy White, Tougaloo College Jackson Heart Study Principal Investigator.
Clayton has been a campus leader throughout her matriculation at Tougaloo. In addition to being a Jackson Heart Study Scholar and women's basketball player, she holds membership in numerous honor societies and other organizations, including the Student Government Association.