MISSISSIPPI INBRE
NEWS RELEASE
For Immediate Release                                                                                                         
3/12/18
Media Contact:
Jamie Lott, 601.266.5611, jamie.lott@usm.edu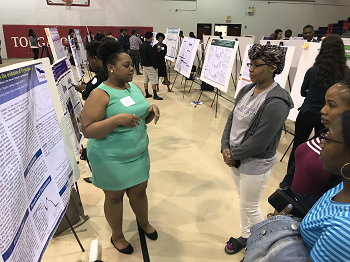 With the hustle and bustle at end of the semester, around 70 undergraduate students from Mississippi College, Tougaloo College and Millsaps College made it a priority to present their research at the Tougaloo College-Mississippi College 15th Annual Undergraduate Research Symposium held on April 5, 2018.
The symposium, sponsored by Mississippi INBRE, allowed students in the areas of natural science, social science, humanities and education to present their research and collaborate with students from other institutions in the area.
"This is a venue for students who don't have the opportunity to go to other conferences to actually present their research to someone outside their department," said, Dr. David Magers, chair of the Academic Research Council at Mississippi College and a member of the planning committee. "I have seen that over the years it has provided an opportunity for students who don't have that opportunity otherwise."
With the 15th year of this collaborative event, Dr. Santanu Banerjee, professor at Tougaloo College and chair of this year's planning committee is excited to see the event as a staple at their institution.
"When the calendar is being developed, we consistently set aside a time for this important event. Plus, we are grateful that the presidents of both colleges are present for each of these conferences," said Dr. Banerjee.
This year's Keynote Speaker was Dr. Glen Shearer, Program Coordinator for Mississippi INBRE. He excitedly shared with students how their research experience could be of benefit to them in future careers.
"One of the most important activities of Mississippi INBRE is to provide research opportunities for our students. As I travel across the State, I am continually encouraged by their enthusiasm and capability—thus, I feel confident, Mississippi has a bright future ahead."
About Mississippi INBRE
Mississippi INBRE, directed by Dr. Mohamed Elasri, associate dean and professor in The University of Southern Mississippi's College of Science and Technology, is a statewide program that is supported by an award from the National Institutes of General Medical Sciences. Their mission is to enhance the biomedical foundation in Mississippi and to reach out to Mississippians in order to improve health throughout the state.
Mississippi INBRE seeks to engage talented researchers and students in biomedical research projects that will increase the state's research competitiveness as well as impact the health of citizens of Mississippi.