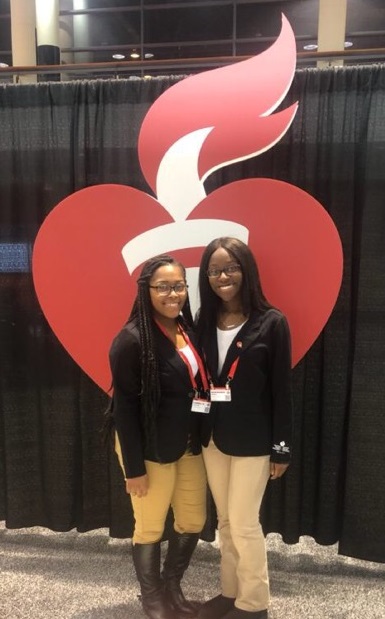 Carmilya Jackson (left) and Normanda Brown (right).
"Ensuring that students have a positive academic experience remains our top priority" says Dr. Bianca Garner, Tougaloo College provost/vice president for academic affairs.  Two of Tougaloo's Jackson Heart Scholars, senior biology major Carmilya Jackson and sophomore chemistry major Normanda Brown, were recently named American Heart Association (AHA) HBCU Scholars and represented Tougaloo at the 2018 Scientific Sessions of AHA in Chicago, IL November 10-12.
The (HBCU) Scholars Program advances and promotes a rich academic experience for scholars from historically underrepresented groups by encouraging careers in health services, research, community engagement and public service.  AHA is committed to increasing diversity in science and the delivery of healthcare.  The goal is to create a diverse pool of exceptionally prepared and academically strong students that are ready to engage in science and the health professions.
According to Dr. Wendy White, Tougaloo College Jackson Heart Study Principal Investigator, "selected AHA HBCU Scholars are recommended by their faculty based on their interest in gaining a better understanding of cardiovascular disease and their commitment to research."  The AHA Scholars participate in research experiences with AHA researchers, are assigned a mentor, explore different career paths and earn a stipend.
The AHA Scholars gave outstanding research presentations at the 2018 Scientific Sessions.  Additionally, they attended workshops and participated in specialized CPR trainings.  "We were intrigued with meeting and sharing our goals and aspirations with the president of the American Heart Association. He was very attentive and encouraged us to continue on our trajectory to find solutions to help improve outcomes for those suffering from cardiovascular diseases," says Jackson who plans to pursue a career in pediatric medicine. "Attending this year's Scientific Sessions of AHA afforded us with a wonderful opportunity to supplement our classroom knowledge, an experience that is priceless, says Brown.
Tougaloo College is the first HBCU in the state with students involved in the AHA HBCU Scholars Program. The collaboration between AHA and Tougaloo College was initiated by Dr. Donna Antoine-LaVigne, former principal investigator of the Jackson Heart Study Community Outreach Center.