White House Initiative Honors Tougaloo Student as 2018 HBCU Competitiveness Scholar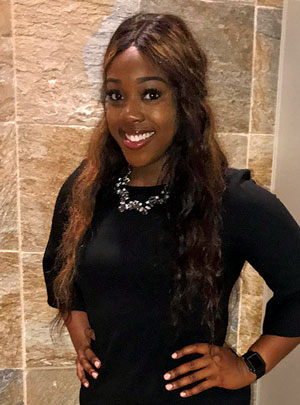 2018 HBCU Competitiveness Scholar, Tougaloo College senior History major, Raegan Johnson.
Tougaloo, MS - The White House Initiative on Historically Black Colleges and Universities (WHIHBCU) selected Tougaloo College senior History major Raegan Johnson as a 2018 HBCU Competitiveness Scholar. Johnson, who is from Gulfport, MS, is one of 63 students from 54 HBCUs awarded with the Competitiveness Scholar honor, the Initiative's highest honor. This award is given to students who demonstrate leadership within their community, endeavor to make the country a better place, as well as take full advantage of educational and economic opportunities.
"For roughly two months, I anxiously awaited to hear if I was chosen to represent my beloved Eagle Queen as a competitive scholar," said Johnson, who said she applied after learning she had been nominated for the award. "I have an unyielding love for my institution and I always aspire to represent the Eagle Queen to the best of my ability," said Johnson.
She says service is something she stands upon, which is evident from her credentials. To name a few, Johnson is a United Negro College Fund (UNCF)/Mellon Mays Fellow, yearbook editor, Student Activities Council member, as well as a mentor to multiple young women on campus.
As a student who is succeeding in the areas of academic achievement, civic and campus engagement, as well as entrepreneurial spirit, Johnson is constantly preparing for a successful future as an African-American Studies professor at an HBCU.
 "In May of 2019 I will graduate from Tougaloo College with a degree in History. Upon graduation, I plan to pursue a PhD of African American Studies," said Johnson.
HBCU Competitiveness Scholars were invited to attend the 2018 National HBCU Week conference in Washington, D.C. September 16-19.