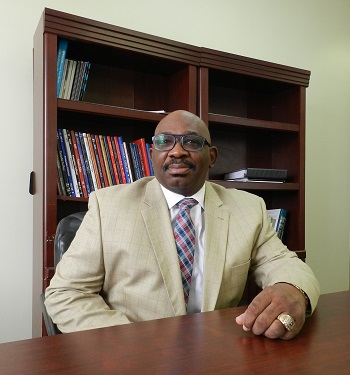 Dr. Eric W. Jackson, Sr.
Tougaloo College named Dr. Eric W. Jackson, Sr. as vice president for student affairs/dean of students effective October 1.  "I am thrilled to welcome Dr. Jackson to campus. He brings extensive experience and education in the areas of student retention and enrollment management, student life, career services, housing and residence life, dining services and public safety. During our search for the ideal candidate, he clearly distinguished himself with a focus on student success by being an engaged leader and providing direction to others while leading by example. We look forward to his leadership in student affairs as we continue to move the College forward as an institution known for advocating a student-centered culture.  He also brings experience and skills in the area of institutional effectiveness," says Dr. Beverly W. Hogan, president of Tougaloo College.
Jackson will oversee the Division of Student Affairs that supports student learning and success through quality programs, services, and initiatives. The Division is committed to providing resources to all students, ensuring their learning experiences extend beyond the classroom.
Most recently, Jackson served in various senior-level positions including Edward Waters College, St. Augustine's University and Rust College.  "I'm especially glad to join the Tougaloo family and honored to join the legacy of outstanding leaders who have served in this role prior to me.  I have great respect for the history of this College, its background and what it has done throughout the years for, not only students of color, but for its community as well.  I look forward to working with all students to ensure that they are challenged and supported to realize their potential," said Jackson.
Dr. Jackson holds a doctorate in administration of higher education from Capella University, a master's in political science and public policy analysis from The Ohio State University, and a bachelor's degree in political science and government from Barbara-Scotia College.  He earned an educational management certificate from Harvard Institute of Educational Management (IEM).  He is a member of Phi Beta Sigma and is the father of three adult children: Eric, Jr., Ariana and Jordan.