Tougaloo College's historical Woodworth Chapel made history, again, Friday, August 3, 2018, as the location where documentation was signed, designating the Medgar and Myrlie Evers Home as the fourth historical landmark inducted into the African-American Civil Rights Network. Noted for its pivotal role as a safe haven for civil rights activists, Tougaloo's role remains evident as it hosted another historical ceremony, which sought to honor the sacrifice and perseverance of the Evers family.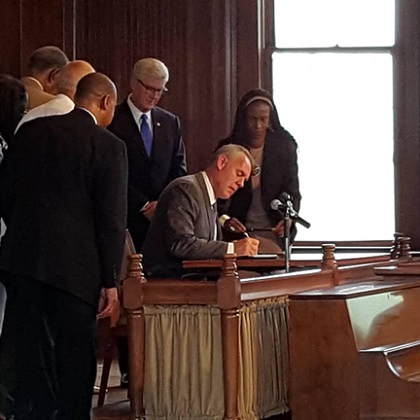 As President Beverly Wade Hogan reflected on a gloomy past, she expressed hope for a promising future. "It is our hope that the recognition of this symbol of freedom will provide broader exposure for the people of the world to learn more about the life and legacy of Medgar Evers, and in doing so, inspire greater work to advance a more just, humane and inclusive world for all humankind," said Hogan.
Prior to signing the official document, U.S. Department of the Interior Secretary Ryan Zinke spoke about civil right pioneers, like Edgar and Myrlie Evers, as well as the life threatening sacrifices they made so all people could have access to civil treatment. "It's an honor to stand with members of the Evers family, the community and local officials to add it [the Evers Home] to the African-American Civil Rights Network," said Zinke.
Civil rights activist Medgar Evers was assassinated outside of the Evers' home in June of 1963. Tougaloo College has owned and preserved the Edgar and Myrlie Evers Home since the 1990s.