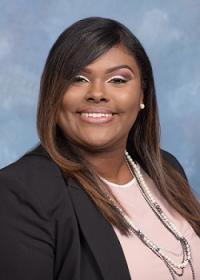 Tougaloo College alumna and recent law school graduate Marnise Alyssia Webb.
In the spirit of Tougaloo College creating career pathways to a global marketplace, one of its alumni is set to explore the globe and return to the Jackson, Mississippi area with a larger business scope. Tougaloo College alumna and recent law school graduate Marnise Alyssia Webb was selected to participate in the Continental Tire Clinton Human Relations Graduate Program. Although the tire and technology corporation's new Continental plant in Clinton, which is the third in the US, is still being built and not expected to begin production until late 2019, Webb is already training.
"It's really a wonderful thing. I've never thought about leaving Mississippi," said Webb. She is now in Germany for a week. Germany is one of the many global locations Webb will travel during her training over the next two years. "I'm able to leave home and not leave home at the same time," said Webb, who is from Los Angeles, CA, but calls Mississippi home, after living majority of her life locally. Webb is a graduate of Madison Central High School, with a Bachelor of Arts degree from Tougaloo College and Juris Doctorate from Mississippi College's School of Law.
Webb's training will consist of recruiting, compensation and benefits, employee management, as well as HR communications. Although Webb said she feels like the world is her oyster, she attributes a great deal of her career success to a great support system, as well as networking.
"I encourage all young people who are undecided to start at Tougaloo College. It gave me a great foundation," said Webb, as she described the importance of networking. "Don't limit yourself and make every opportunity to network. Being there taught me when you want something you go after it," said Webb.
After obtaining her law degree, along with receiving her license, Webb hopes to have the opportunity to work in corporate business law and employment law.
Continental Tires Clinton is scheduled to open its Training Center later this year. Within the many classrooms and computer labs are where a great deal of job interviewing and new employee training will take place.