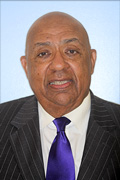 Dr. James C. Coleman
Tougaloo, MS - Tougaloo College Athletic Director and longtime administrator, Dr. James C. Coleman, has been selected as one of the inductees for the 2018-19 National Association of Intercollegiate Athletics (NAIA) Hall of Fame. Because of his many years of leadership in athletics, as well as within the community, the NAIA announced Dr. Coleman as the Meritorious Service award recipient during National Award Day.
Beginning as a two-sport student-athlete on the campus of Tougaloo College, Dr. Coleman turned his passion for sports into a lifelong commitment to service and education. Dr. Coleman has served as men's basketball coach, sports information director and professor of education, in addition to his role of director of athletics for the Tougaloo Bulldogs' athletic programs.
As a result of Dr. Coleman's 56 years in higher education, he has been a leader in the development and growth of Tougaloo College and the Gulf Coast Athletic Conference (GCAC). For the past six years, he served as a member of the NAIA National Administrative Council (NAC),  as well as the National Athletic Directors Association (NACDA) and was named GCAC Athletic Director of the Year in 2012 and 2018. Dr. Coleman served as chairman for NAIA District 30 from 1979-1982, as well as chairman of the GCAC Athletic Directors committee. In 1966 and 1967, Dr. Coleman was awarded NAIA Sports Information Director of the Year.
During the 1960s, Dr. Coleman participated in desegregating housing at Memphis State University. He did the same at the University of Mississippi, where he became the first African-American assistant basketball coach. In 1997 the Jackson native was inducted into the Tougaloo National Alumni Association Hall of Fame for his service in athletics.
 
Dr. Coleman is a graduate of Tougaloo College. He earned a Master of Education from Tennessee State University and a doctoral degree from the University of Mississippi.
 
The formal induction ceremony will take place during the 2019 NAIA National Convention in West Palm Beach, FL.