Inclusion In National Museum Of African American History And Culture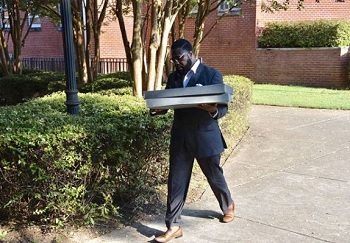 Archivist Tony Bounds transports Tougaloo archives for digitization.
The story of Tougaloo College and its beginnings will soon be shared worldwide via the world's largest  museum, education and research complex, the Smithsonian Institute. The College's Post-Antebellum to mid-20th century artifacts are being added to the Smithsonian's National Museum of African American History and Culture. With phase one of artifact digitization taking place just before the College celebrates its 150th birthday on October 19, 2019, the goal of preserving the College's history is being accomplished while College administration focuses on building a sustainable future.
"The endeavor was to digitize materials that are in danger of deteriorating," said Tougaloo College archivist Tony Bounds, who met the Museum's digital archiving team at a designated location in downtown Jackson, MS  this fall to begin this process. "Once these images become available, I'm sure we will begin to see them in a wide array of academic publications around the world." Among the artifacts digitized and added to the Museum's collection are early photos of the Tougaloo College campus, which was transformed from a plantation to a welcoming place where people from all walks of life can receive an invaluable education. Also being added to the collection are photos of faculty; curriculum; publications; classes; athletics; and buildings, such as the Robert O. Wilder building, known as The Mansion, which is the oldest building on campus.
The National Museum of African American History and Culture was established to tell the story of African Americans and to recognize the fact that Black History is American History. After former presidents George W. Bush and Barack Obama each signed bills authorizing federal funding, the museum, which preserves African American culture and history, was established by an Act of Congress in 2003 and opened in September 2016, following 16 years of petitioning for support and resources to make the museum a reality.
The National Museum of African American History and Culture contains more than 36,000 artifacts, is the 19th museum of the Smithsonian Institution and now Tougaloo College is officially being added to the Museum as evidence of the College's role in American history. Phase two of Tougaloo's artifact digitization is planned for Spring 2020. The whole collection should be complete by Summer 2020.
"The rich history and promise for the future are part of what attracted me to Tougaloo, and I realize a great responsibility lies on the shoulders of institutions of higher learning like Tougaloo to produce the next generation of leaders for the betterment of society," said President Carmen J. Walters, who began leading the College as its 14th president July 1, 2019. "As we build on the College's iconic strengths of academic excellence and social responsibility, I am proud to know the world will have the opportunity to learn about the endeavors of Tougaloo College, which remain in alignment with the College's current mission."