Mister Tougaloo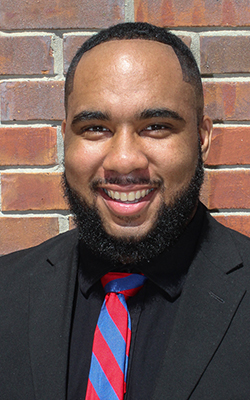 Quintarus Amos
Quintarus Amos hails from the heart and soul of the Mississippi Delta – Greenville, Mississippi – born to Curtis and Tina Amos. He attends Family Worship Church, located just down the street from his home. He is a 2014 honors graduate of Greenville Weston High School, where he was involved in many on-campus organizations such as: Student Government Association (SGA), The Principal's Club, the Hornets Marching Band, Greenville Mayors Youth Council, Book and Poetry Club, and National Honor Society. Outside of school, he enjoyed participating at the local Boys and Girls Club, lending a helping hand with the children.
After graduation, Quintarus furthered his education at the beloved Tougaloo College where he majors in Sociology. Quintarus began his involvement in many aspects of leadership and representing his institution. He participated in his first pageant (FAME) and was honored to serve as Mr. FAME 2014-15. Later, Quintarus served his sophomore class as the 2015-16 Sophomore Class Vice-President. Quintarus became a Fall 2015 initiate into the Beta Rho Chapter of Phi Beta Sigma Fraternity, Incorporated, where he now serves as the Chapter Secretary and Mr. Phi Beta Sigma 2016-17. Quintarus also currently serves as the National Pan- Hellenic Council (NPHC) President, Tougaloo College Pre-Alumni Council (PAC) parliamentarian, the 2016-2017 F.A.M.E Vice President, and is also affiliated with the on-campus Sociology club.
After graduating from Tougaloo, Quintarus plans to return to his hometown as a high school counselor within the Greenville Public School District.
Quintarus' Motto:
"I can do all things through Christ who strengthens me." - Philippians 4:13
Miss Tougaloo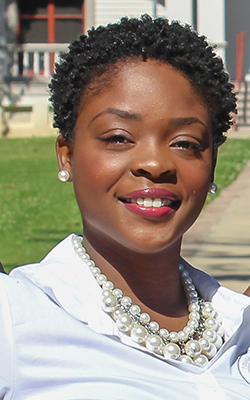 Kierra Jones
Kierra Jones is the daughter of Kimberley Jones and Gideon Butler. A senior Biology major, she began her journey at Tougaloo College in 2014 after graduating from Cleveland High School in Cleveland, Mississippi. She finished her high school career as president of her class, Miss Cleveland High School, and Homecoming Queen.
Kierra is a Presidential II scholar, a recipient of the Congressional Black Caucus Kellogg's Scholarship, and a member of Alpha Lambda Delta Honor Society. During her freshman year, she became a member of the Pre-Alumni Council, a Jackson Heart Study Scholar, and a representative for Tougaloo College Ambassadors and Meritorious Scholars. She served as president of Tougaloo Ambassadors and Meritorious Scholars, Parliamentarian for Tougaloo's Jackson Affiliate chapter of American Association of University Women, a F.A.M.E. mentor, and a member of Womanhood during the 2016-2017 academic year.
Upon graduating from Tougaloo, she will attend medical school and specialize in obstetrics and gynecology. Her decision to become an OBGYN was heavily influenced by her internship in Ghana last summer. Kierra was recently accepted into the Mississippi Rural Physicians Scholarship program at the University of Mississippi Medical Center, which will give her the opportunity to receive mentoring, rural clinical experience, and a support system on her pathway to becoming a physician in a rural community in Mississippi.
In her spare time, Kierra enjoys exposing prospective students to the Tougaloo Campus life, spending time with her God-son Ashton and family, discovering her hidden talents through DIY projects, and traveling abroad. She takes immense pride in the fact that she has earned her crown as the 79th Miss Tougaloo College. She encouraged her peers to "Join the Quest" as they take the "Journey to a Better Loo'" by encouraging unity, empowerment, and black excellence all while promoting Tougaloo College in the community.
Kierra's Motto:
"For though I be free from all men, yet have I made myself a servant unto all, that I might gain the more." - 1 Corinthians 9:19