Clubs and Organizations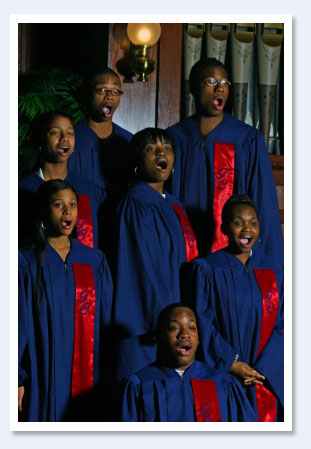 Organizations and activities offer an opportunity for the development of leadership skills. Through group dynamics and interaction, students learn more about themselves and others and how to work effectively in group situations. All student organizations are under the jurisdiction of the College. Tougaloo offers a variety of clubs and organizations including the following:
Anointed Voices of G.R.A.C.E. (Gifts Received At Christ's Expense), the College's 70-plus member gospel choir, began as a freshman orientation choir in 2000. The choir is committed to spreading joy through gospel. The choir has been on tour throughout the state of Mississippi and parts of Alabama and continues to be a positive influence on Tougaloo College students.
Concert Choir offers excellent training in choral music to students with musical interest and ability. Watch the Tougaloo College Concert Choir perform March 11, 2013 in Providence, Rhode Island.
The Harambee, a student produced newspaper, is an excellent vehicle for students interested in writing to showcase their talents. The director of the Journalism Program is responsible for advising the newspaper staff.
Pre-Alumni Council members engage in meaningful activities involving the alumni. The Council serves as a mechanism to prepare students to be active and viable alumni upon graduation.
Reuben V. Anderson Pre-Law Society is designed for students who desire to become a member of the legal profession. The students participate and host a number of events that showcase their speaking and leadership skills. Students have the opportunity to participate and/or serve in a number of other clubs and organizations. Among those are:
• Afro-American Studies

• Amnesty International 

• Baptist Student Union 

• Biology Club 

• Economics/Business Club 

• Education Club 

• French Club: "Les Amis Francais" 

• Gladys Noel Bates Student Researchers' Club 

• Health and Physical Education Club 

• Pre-Alumni Club 

• Pre-Health Club 

• Political Science Club 

• Sociology Club 

• Ministry in Motion 

• Modeling Squad 

• NAACP 

• Tougaloo Dance Ensemble