What Can I Do with This Major?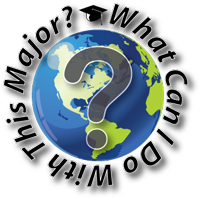 Whether you are exploring multiple majors or searching for information about your chosen field, this site will help you connect majors to careers. Learn about the typical career areas and the types of employers that hire people with each major, as well as strategies to make you a more marketable candidate.
Keep in mind that the information sheets and websites are representative of typical career paths associated with each major and not a comprehensive list. You may want to explore information and websites from multiple majors to help you learn about a wide range of career opportunities.
Click here to start learning what you can do with your major today!
Disclaimer: The website provided in the "Major and Career Links" are not maintained by the Office of Career Services but is provided as a convenience to students through this third party resource.
Resumé Resources
Career Planning and Job Search
Interviewing Skills
Internships
Etiquette and Dress
Other