For Immediate Release
Media Contact: DeAnna Tisdale Johnson at dtjohnson.tcmedia@gmail.com
A Golden Time: Congressman Bennie G. Thompson to celebrate fifty years as a Tougaloo alumnus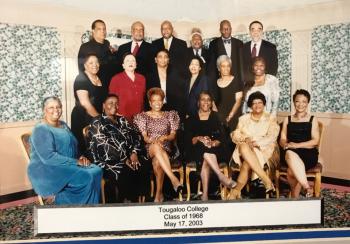 Tougaloo, MS (May 3, 2018) - Walking into his office at 6:30 p.m. on a Friday afternoon, after just driving in from the Jackson-Evers airport, U.S. Congressman Bennie G. Thompson has a jovial smile on his face and a Tougaloo College hat on his head. "I take Tougaloo everywhere I go, and everywhere I go I meet someone who has heard about Tougaloo College," says Thompson. For Congressman Thompson, the Tougaloo hat he wears is an extension of the love and pride he has for Tougaloo in his heart. A love and pride that has spanned the course of 50 years as Thompson, and his wife London, celebrate their Golden Class Reunion this coming weekend.
A native of Bolton, MS, where he still lives and serves the community, whether here or in our nation's capital, Congressman Thompson expresses how Tougaloo became a beacon of light that instilled in him invaluable lessons and resources that made him the man he is today. "Tougaloo is a place where the lights came on. I had never read a book before I got there. I had never read a novel. I went to a segregated school where in my Mississippi history book, I didn't get past slavery; where in my American history book, I didn't get past the civil war. There was just so much that I had to grasp. I had the potential. But then somehow I had to connect the potential with reality."
What Thompson realized is that Tougaloo was a special place that cultivated an environment where its students could be nurtured and nourished by dedicated faculty and staff and fellow students. It was a place that untapped potential was molded and shaped by impactful speakers such as Dr. Martin Luther King, Stokely Carmichael, Harry Belafonte, Nina Simone and Richard Wright. "The difference in what I found [at Tougaloo] is a small campus environment where we knew everybody on campus. It was a family. We even called our dorm matron Mama Pete.
"It was nurturing. My teachers cared, you know, they would talk to us after class and invite us over to their houses to study. I met my first white teacher at Tougaloo because up until that point, all my teachers were black. Dr. [Ernst] Borinski, who at that time was head of the Sociology Department, had the social science lab that stayed open. You could go check books out. He had books all over the place. He was tremendous. We were able to have that kind of exposure where you could start talking to your teachers about what's really going on."
Dr. London Thompson also remembers impactful professors from her time at Tougaloo. "One of the things that stayed with me across the years was that failure wasn't an option. Your teachers didn't allow you to, and if they noticed some positive traits in you, they just refuse to let you fail. But one of the things that I think happened with me is that I was taught to be an analytical thinker, which was really important. Teachers structured their questions so that you had to think beyond the surface.
"I had a teacher, a little bitty guy named Joseph Hursenburg, who asked the question, 'Did the Roman empire die of old age, commit suicide, or was it murdered?' I had never in my life had a question like that before. That taught me that I had to look beyond the surface of the information and try to make different correlations."
Interestingly enough, the beginnings of the 50+ year love story between Congressman and Dr. Thompson was initiated through the correlations, or connections, between friends, the local hangout, a sitting stone positioned by the school's entrance, and much persistence on Congressman Thompson's part.
Well, I came to Tougaloo the summer of 1966 and London had already spent two years there," says Congressman Thompson. "I spent a year at Utica Junior College before I transferred. I was a Political Science major and she was an Economics major. [That summer], we didn't have a lot of activity. We had the grill, right there on County Line, and Momma T's, which was behind the campus. I had seen her and, you know, I shot at her the best I could. It didn't work too well, but I didn't give up. Once we finally got together we were close, and actually since we've left, we've gotten the award for being married the longest out of our class."
While awaiting her turn to tell her side of the story, a youthful playfulness is evident in Dr. Thompson's eyes and in the way she giggles. "I'm going to give you the real story," states Dr. Thompson. "He was there that summer. Elaine and my homegirls were there that summer also, and I wasn't. When we arrived back on campus that fall, Elaine and some more of us were going to the Village Grill. [Ben] was sitting on the stone at the gate, and Elaine stopped to introduce us. At that time, we had student IDs, but they didn't have pictures on them, and they were having a dance there that night. [Ben] let me use [his] ID to go into the dance and [he] had to come later and get it. That's how we met." Dr. Thompson adds, "I wasn't really looking for a boyfriend, and he would just come over and call and call. I just hated for him to call my name and I not answer."
In addition to his vocal persistence, Congressman Thompson also wrote letters to his college sweetheart while he was away in Chicago. The letters now fill up two shoe boxes that they still keep to this day. "The last time I looked at them, it said I was headed, based on Tougaloo, back home to do something to help black people. That was kind of the genesis of it."
Based on his experiences at Tougaloo, a place that was a safe haven for those seeking refuge from attacks during the Civil Rights Movement and a meeting place for prominent Civil Rights leaders and students to strategize about protests and ways to fight for justice and equality, Congressman Thompson received training that prepared him to serve his community. "Tougaloo during the Sixties was quite an experience because of the Civil Rights Movement. Those are the kinds of experiences and memories that you carry with you to your grave," expresses London. "I can still look at Stokely Carmichael's eyes and hear them say 'Black Power' and 'I'm going to make this crystal clear.'"
"If something happened over in the night, the Chapel bells would ring, which was a signal for you to come to the chapel. Now, that is the one time the matron could not keep you in the dorm because you knew there was something going on, something you needed to know about," she adds.
"The first campaign I worked on was Fannie Lou Hamer's campaign in the Delta," says Congressman Thompson. "We participated in the Meredith March, all of the demonstrations that were going on including the Jackson Library and the swimming pools. Tougaloo students were on it. If you attended Tougaloo, there were certain expectations that you got involved."
During his time at Tougaloo, the term "get on the bus" took on an entirely different meaning to Congressman Thompson. "I remember when we had the riots in Jackson and Gibbs and Green got killed [at Jackson State]. We were over there supporting the students and they called a curfew and that's the infamous bus thing where they say I stole the bus, although one of my work study jobs was as bus driver. So I would pick Tougaloo kids up in Jackson, take them shopping, take them to mass or wherever. So Connie Harvey (Constance Slaughter-Harvey) who was Student Government President and I decided that if we did not get the Tougaloo students back to campus the police were going to do something really harmful.
 "They really didn't like us because we wouldn't bow down to somebody just because they were white, and part of that education we got at Tougaloo. We talked about equality, civil rights, justice, and fairplay. So we came back to campus, got the bus and picked up all the kids. We brought them back and somebody stopped us and told us that when we got back on campus, they were going to try to send us home for taking the bus. Connie and I got everybody off the bus right at the gate, so when we got up to where everybody was, it was just the two of us and we didn't tell [the school] who else was on the bus. But on that bus were Maurice James, Malcolm Taylor, Edward Blackmon, and all kind of folks who were engaged in what Tougaloo is all about."
Though both Attorney Constance Slaughter-Harvey and Congressman Bennie Thompson were reprimanded for their actions, their fortitude spawned two vehicles of change, two legacies that have led them down the literal and proverbial path of fighting for justice and equality for the citizens of Mississippi and the nation. As Tougaloo moves forward towards its Sesquicentennial Anniversary in 2019, Congressman Thompson remarks on its impact thus far. "The 150th Anniversary shows that in spite of all the people who predicted Tougaloo's demise and tried to kill us off, we survived. I make the argument that we're a better school now obviously than where we used to be. The future is far brighter because now there are a lot of people willing to help us. If we play our cards right, we can help endow Tougaloo so that the next 150 years will have a smoother path to follow than the first 150."
Congressman and Dr. Thompson have witness fifty of those years, and as they look back, they also leave a charge to the graduating class of 2018. "One of the things that the Class of 2018 can be expected to do as they move up in society is to reach back and help out someone who's coming behind them so that they can have some of the same types of opportunities that they were afforded. We all have to be our brother's keeper. And we need to look out for each other," states Congressman Thompson.
Dr. Thompson reminisces about her time as a graduate. "For me, one of the most depressing feelings that I had was the Saturday before graduation when I realized that when I left campus the next day that I would not be back there in the same vein. I was moving on to a different atmosphere, into a different world. I was leaving home again when I graduated from Tougaloo. That was one of the feelings that I had. And at that point I just asked the Lord to just let me live for my Golden Anniversary. I wanted to come back for that, and so now I'm here."
To join in on Tougaloo College's Commencement Weekend festivities, visit www.tougaloo.edu.
###
About Tougaloo College:
Tougaloo College is a private, independent, liberal arts institution, offering undergraduate degrees in twenty-nine majors in the areas of education, the humanities, natural sciences, and social sciences, and graduate degrees in teaching and child development. Since its founding in 1869, the College has maintained a rich tradition of excellence, relevance, and influence, creating a legacy of distinction in higher education. Some of Tougaloo's remarkable alumni include Congressman Bennie G. Thompson; NAACP President Derrick Johnson; Justice Reuben V. Anderson; Engineer and Educator Eugene DeLoatch; Astrophysicist Hakeem M. Oluseyi; Mayor of the City of Flint, MI Karen Weaver; Actress Aunjanue Ellis; Civil Rights Lawyer & Appeals Court Judge Geraldine Hines; Civil Rights Activist Dr. Joyce Ladner; and former Mississippi Secretary of State Constance Slaughter Harvey, among others. According to the National Science Foundation, Tougaloo ranks among the top twenty-five U.S. institutions whose graduates earn their Ph.D. degrees in the science and engineering disciplines. "The Washington Monthly" lists Tougaloo among the top ten Best Bang for the Buck colleges in the nation. And the Educate to Career College Rankings Index ranked the College #23 out of the 1222 U.S.