The Red Sand Project to create the first HBCU earthwork at Tougaloo College to Raise Awareness on Human Trafficking and Modern Day Slavery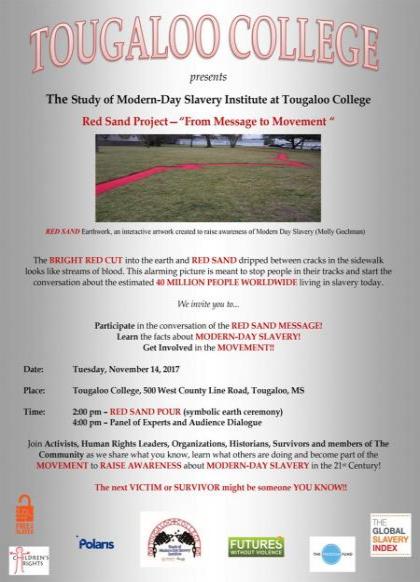 Tougaloo College will be the first Historically Black College or University (HBCU) to install a Red Sand Earthwork on its campus through our partnership with the Red Sand Project. This interactive artwork is being created to raise awareness about modern day slavery and human trafficking. The bright red cut into the earth and red sand dripped between cracks in the sidewalk looks like streams of blood. This alarming picture is meant to stop people in their tracks and start the conversation about the estimated 40 million people worldwide living in slavery today. 
To mark this momentous occasion, Tougaloo College and the Red Sand Project will hold a press conference on Tuesday, November 14, 2017 at 1:00 pm, which will cover a range of modern day slavery and human trafficking issues including: 
Identifying what modern day slavery and human trafficking is
Revealing that slavery exists today 
Demonstrating how we can help prevent it and even work to eliminate it
How human trafficking is affecting Mississippi
Leading modern day slavery and human trafficking activists will be present to answer questions from the community, including Tougaloo College President Beverly Wade Hogan; Molly Gochman, Interdisciplinary, Conceptual Artist, Activist and Creator of the Red Sand Project; Professor Johnnie Maberry, Co-Director of The Study of Modern-Day Slavery Institute; Dr. Stephen Rozman, Co-Director of Modern Day Slavery Institute; Kiera Reed, SGA President; and Selika Corley, Crisis Prevention Specialist for the Hinds County Sheriff's Department, who will share her personal experience with sex trafficking.
Afterwards, a symbolic earth ceremony termed a Red Sand Pour will be held at 2:00 pm. Participants will be asked to pour red sand into the earthwork and sidewalks throughout the campus.
Then, a panel discussion will be held to continue the discussion on this critical issue at 4:00 pm. This discussion will be moderated by Sunny Slaughter, National Human Rights and Social Justice Expert and Consultant. Panelists include President Hogan; Rukia Lumumba, Esq., Civil and Human Rights Activist; and Dr. James Stewart, Historian, Noted Author, and Civil and Human Rights Activist.
These thought leaders will engage scholars, experts, professionals, grassroots organizers, and activists in critical conversation about human trafficking and draw their attention to overlooked populations—refugees, immigrants, girls, children, and others—who are most at risk of being enslaved, spending their lives being exploited for the profit of others and raise awareness of the vulnerabilities that lead to modern-day slavery in the 21st century.
For more information, contact Dr. Johnnie Maberry at (601) 977-7743 or DeAnna Tisdale Johnson at (601) 951-8686. 
Event Date:
Tuesday, November 14, 2017 - 2:00pm