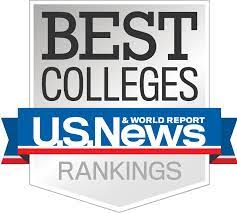 By Kathleene Quinn 
Tougaloo, Miss., September 15, 2021— Tougaloo College lands No.2 among the top three National Liberal Arts Colleges in the most recent U.S. News & World Report's Best Colleges Performers List, a marked transformation of progress and an affirmation to its mission of educating and graduating economically disadvantaged students. 
 The Performers List based its rankings on colleges and universities with enrollees and graduates awarded with Pell Grants. While tuition and economic background of the student body were the most likely indicators, other factors included graduation scores, early-career net salaries, and endowments.
The College also boasts its way to No.162 among the best liberal arts colleges in the nation in the Best Colleges 2022 edition. U.S. News & World Report surveyed 1,466 bachelor's degree-granting institutions nationwide in the spring and summer of 2021 on 17 measures of academic quality. In addition, they used vetted data from surveys and reliable third-party metrics to calculate each ranking factor. 
With this latest recognition, Tougaloo College surpasses other HBCUs in the state of Mississippi in the social mobility category while holding its spot at No.15, ranking as one of the best historically black colleges and universities in the country. 
"Providing academic training to economically disadvantaged students is part of Tougaloo's mission. We are proud to transform the lives of students from different socioeconomic backgrounds who are ready to lead, serve, and effect change globally. The College's recognition as one of the best private historically black colleges among other nationally ranked institutions inspires all of us—the students, faculty, staff, Board of Trustees, and alumni. We will continue to pave the way to equal and accessible higher education," said Dr. Carmen J. Walters, president of Tougaloo College. 
To see all of U.S. News & World Report's Best Colleges and Lists, visit 2021 Top Performers on Social Mobility – National Liberal Arts Colleges | US News Rankings.