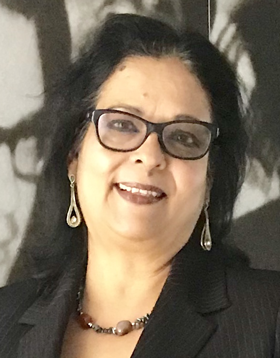 Tougaloo Psychology Professor Dr. Shaila Khan is in her last week of teaching her Organizational Behavior course at Brown University. As part of the Brown University-Tougaloo College Partnership (BTP), Khan teaches students who travel from all parts of the world to take her three-week course, which prepares students to become more self-aware in preparation for acquiring leadership positions. As a Tougaloo College faculty member for 20 years and a Brown University instructor for seven years, Khan says she enjoys traveling to Providence, Rhode Island to teach high school students in grades 10, 11 and 12.
"The whole goal of the course is to prepare students for management and how to build their character, personality and to improve their communication and motivation," said Khan. Other facets of the course include obtaining the correct perception of people, dealing with conflict management and changes in organization and working within diverse environments.
For three hours per day, five days a week, the course at Brown is an application of the concepts taught in psychology, like theories of personality. Although the class is conducted in a hands-on environment, the curriculum includes a lot of reading, debate, civil leadership, presentations and group projects. Project topics include evaluating a manager or assessing a fast food restaurant, for example. The students, who travel from places like Italy, Greece, Japan, China, India and Pakistan, receive a pass or fail grade for the non-credit course. As Khan evaluates each student in the areas of writing, homework, aptitude and in-class behavior, students evaluate her. Although the duration of the class is short, courses like this one usually start lifelong relationships for the students, who often keep in touch with Khan.
"A lot of times, after we finish the course, I also get an email requesting recommendation letters. We [the students and I] keep in touch and we build a bonding relationship," Khan said. These relationships are similar to the start of the BTP's cooperative agreement on May 18, 1964, which began during a time when both campuses faced civil rights issues. The partnership was designed to enrich the Brown and Tougaloo campuses through student and faculty academic and cultural exchanges, collaborative research ventures and administrative level engagements. Since 1964, over 500 students and faculty have participated in the BTP through programs such as Faculty Exchanges, Student Semester Exchange Program and Civil Rights Intensive Experience. The BTP is one of many ways Tougaloo faculty, staff and students impact the world.