Success through scholarship: 
The Joseph and Susan Pichler Scholarship promotes academic excellence at Tougaloo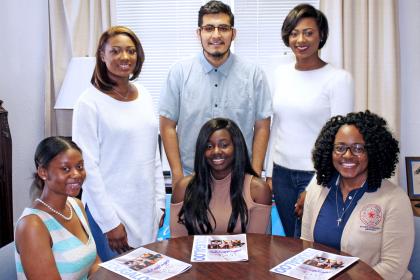 Tougaloo College works diligently to provide scholarships to ensure the academic success of its students and continue the tradition of academic excellence. The Joseph and Susan Pichler Scholarship, sponsored by longtime friends of the college, Joseph and Susan Pichler, assists Tougaloo College in this endeavor. 
With pride in his voice, Joseph A. Pichler, retired chairman and CEO of Kroger Corporation, and Tougaloo Trustee Emeritus talks about his connection to and how much the college means to him. "I've been involved with Tougaloo for 42 years.  In 1975, I wrote an article in an academic newspaper, and Tougaloo professor of music Ben E. Bailey saw it and called me. He asked me if I would come to Tougaloo and talk about my article. And so, I did."
"I came to Tougaloo, and I was so overwhelmed by what I saw.  I was so moved that my wife, Susan, and I started sending a check each year to Tougaloo," says Pichler. Eventually, Pichler joined the Board of Trustees at Tougaloo and served in that capacity until he retired. "It was an honor to serve on the board, and one of my fondest achievements is being able to save historic Woodworth Chapel. A group of us banded together to save the chapel, and my name is listed on the dedication plaque inside Woodworth," Pichler proudly states. 
Pichler, who served as chairman and CEO of Kroger from 1990 to 2004, transforming it into the largest supermarket company in the nation, is no stranger to challenge and adversity. He spoke of how he overcame hardships and kept his eyes on the prize by striving for a great education through the aid of scholarships. "I lost my parents when I was 14. And I had no way of going to college except by having a great deal of help from my older brother, and I won scholarships. Then I went to graduate school at the University of Chicago on a scholarship, and while there I continued to win scholarships."
From 1973 to 1984, Pichler enjoyed a successful and rewarding teaching career at the University of Kansas, holding several key positions in the College of Business, including assistant professor; associate professor while simultaneously serving as special assistant to the U.S. Department of Labor's assistant secretary for Manpower; professor; and dean, when he also was appointed chairman of the Kansas Manpower Services Council.  He also was the recipient of three prestigious fellowships: Woodrow Wilson Fellowship, Ford Foundation Fellowship, and the Standard Oil Industrial Relations Fellowship.  
Taking full charge of his role as dean, Pichler joined the Board of Directors of the Dillon Companies of Hutchinson, Kansas, a company that owned grocery and convenience stores, as well as manufacturing facilities. During the early 1980s, he left the University of Kansas to take a more prominent leadership position at Dillion as executive vice president and later became president.
In 1985, he became executive vice president of Kroger when the company acquired Dillon and eventually became president and CEO, saving Kroger from a hostile takeover and positioning the company to become the household name it is today. 
Pichler credits his success with a few simple steps that he also charges the Pichler Scholars. "Study hard. Develop a goal for your life and pursue it. Keep your integrity. Then work hard." Additionally, he reiterates the importance of giving back to institutions like Tougaloo. "Giving back means being able to participate in the life of Tougaloo College and the students. That's a reward to me and to Susan. Congratulations scholars!  We are proud of you. And, when it is time, give back to Tougaloo."