President Hogan To Speak About Competence, Community and Character During Convocation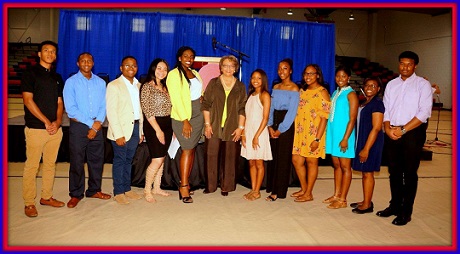 President Beverly Wade Hogan officially welcomed new and returning students to Tougaloo College during the first official gathering of students, faculty and staff at the Kroger Gymnasium on Wednesday, Aug. 22. This official ceremony was designed to inspire students and to inform them of expectations needed to transform from new eaglets into graduating and soaring eagles.
Following an upbeat performance by the Tougaloo College Concert Ensemble, President Hogan's message focused on the theme of developing students who are competent, cherish community and possess character through a transformative liberal arts education.  She reminded students to make the most of their time at Tougaloo College.
"Tougaloo education is fluid, timeless and transferable," said Hogan. "Education must be a transformational tool, causing us to open our minds and think critically about the issues of our times. I admire, especially among my new students and my returning students, that you care about the larger issues, and those issues increase as you become more grounded as a Tougaloo student," she said.
In addition to sharing her vision and expectations for a successful school year, President Hogan recognized the Tougaloo College Presidential Scholars and the class of 2022, the last class she would officially welcome to the College in her role as president, as she prepares to retire from her position June 30, 2019. The Presidential Scholars have earned the highest scholarship awarded to incoming freshmen at the College. These freshmen have scored 27 or higher on the ACT and maintained a 3.50 cumulative grade point average or higher upon admission to the college. The scholarship covers tuition, general room and board, and may be renewed annually for four years as long as the scholars maintain the 3.50 or above cumulative grade point average.