20th Anniversary Celebration of the George A. and Ruth B. Owens Health, Wellness & Human Resources Center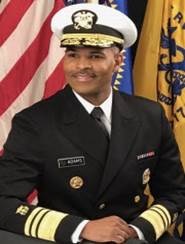 United States Surgeon General, Vice Admiral Jerome M. Adams, MD, MPH
United States Surgeon General, Vice Admiral Jerome M. Adams, MD, MPH, will visit Tougaloo College as part of an opportunity to honor healthcare pioneers, as well as to celebrate local endeavors to promote wellness within the state of Mississippi. Dr. Adams will serve as the keynote speaker during the 20th Anniversary Celebration of the George A. and Ruth B. Owens Health, Wellness & Human Resources Center. The celebration will be held in the Center's Kroger Gymnasium on the campus of Tougaloo College, at 4 p.m. on Wednesday, October 10, 2018.
With a goal of maintaining a healthy community, state and nation, the 20th Celebration of the Center will consist of honoring several healthcare pioneers. Among the honorees are National Medical Association President Dr. Doris Browne and Civil Rights icon and Jackson Medical Mall Founder Dr. Aaron Shirley (posthumously). Civil Rights icon Dr. Robert Smith, who was one of the founders of the Medical Committee for Civil Rights and the Committee for Human Rights, will also be recognized, as well as the Jackson-Hinds Comprehensive Health Center and former executive directors of the Center.
As more community members learn about Dr. Adams' visit to campus, the excitement is spreading. President Beverly W. Hogan is gracious for Dr. Adams' participation in such a community-oriented celebration.
"Dr. Adams is the voice of health care for our nation. As he honors Tougaloo College with his presence at this historic event and in the state of Mississippi, it will, indeed, be a red letter day for Tougaloo," said Dr. Hogan. This historic event is momentous for the entire Tougaloo College community in multiple ways.
The George A. and Ruth B. Owens Health, Wellness & Human Resources Center was established to uplift impoverished areas, with a special focus on the Mississippi Delta. Made possible through a six million dollar construction grant from the US Department of Housing and Urban Development, the 48,000 square foot facility serves as a community resource. The Center's mission is to provide primary and preventive health and educational services that address the health and wellness of the community.  Its services are targeted to twenty-six counties throughout central Mississippi and the Delta region. Like the Center, Dr. Adams' goals of a healthy nation are evident.
"His visit to Tougaloo College signifies our steadfast commitment to promoting quality of life, healthy development and healthy behaviors across all life stages," said Executive Director of the Center, Dr. Dana D. West. As Dr. Adams has recently addressed the need to reduce the state and national opioid abuse epidemic as part of his national public education campaign, the US Surgeon General's visit to Tougaloo College helps call attention to the crisis, which effects many Mississippians.