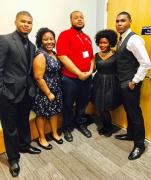 From L to R: Jordan Williams, Varah Potter, Joshua Coleman, Victoria Washington, Romeo Johnson.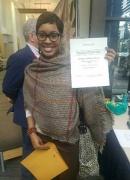 Prof. Kimberly Morgan Myles
Prof. Kimberly Morgan Myles and five of her Creative Writing & Theatre students traveled to Atlanta, GA to compete in the Kennedy Center American College Theatre Festival on February 8-11.  Prof. Morgan Myles received an award for "Excellence in Direction" for the fall production of Mississippi playwright Tennessee Williams' Cat on  a Hot Tin Roof.  Jordan Williams and Varah Potter were both selected to advance to the semi-finals of the competition!  Join us in congratulating our talented young people and their brilliant director!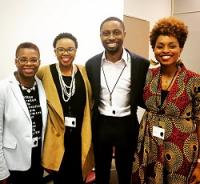 From L to R: Dr. Miranda Freeman, Rae Jean Spears, Khari Johnson, Prof. Ebony Lumumba.
Dr. Miranda Freeman and Prof. Ebony Lumumba were accompanied by senior English majors Rae Jean Spears and Khari Johnson on a panel titled "'All Eyez on Me': The Complexities of Black Bodies in White Spaces" at the "this is how you are a citizen": Humanities and Civic Life in Mississippi conference at Millsaps College.  The conference, supported by grants from the Mississippi Humanities Council and the Mississippi Arts Commission, took place on February 9-10 and focused on MacArthur Fellow and author Claudia Rankine's 2014 bestselling work Citizen.