The mission of the Tougaloo College Archives is to support the goals of Tougaloo College by identifying, collecting, organizing, preserving and making available records of the college and personal papers of individuals that have an enduring value for the institution. The Archives also serves a research and reference center for the Civil Rights Movement in Mississippi. It is the intention of the Archives to facilitate the use of the total collections with a true commitment toward preserving memory for our posterity.
The Mississippi Civil Rights Collection
This collection contains personal papers, oral histories, photographs, and other memorabilia of persons who were active in the struggle for civil rights in Mississippi and the nation. The collection can be viewed here. Examples of included information:
Medgar Evers
Fannie Lou Hamer
Ed King
Ernst Borinski
Desegregation and civil lawsuits records
Various civil rights articles
White Citizen Council literature
Mississippi Freedom Democratic Party files (MFDP)
State NAACP records
Oral history manuscripts and tapes
Civil Rights Movement Veterans Website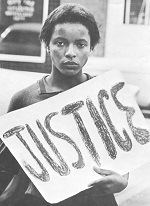 Hosted by Tougaloo College, "This website is created by Veterans of the Southern Freedom Movement (1951-1968). It is where we tell it like it was, the way we lived it, the way we saw it, the way we still see it."
"Note that our site is for documenting what we did and experienced in the Southern Freedom Movement, what it meant to us, what we learned from it, and how we view it today. We hope our site can contribute to rebuilding the beloved community that we once shared."
Visit this amazing resource:

http://www.crmvet.org.
Medgar Evers House
Guided tours are available to the public by appointment. All inquiries should be directed to 601-977-7706 or 601-977-7935. You can also leave an email at libraryservices@tougaloo.edu or fax your inquiry to 601-977-7714.
Mississippi Department of Archives and History (MDAH)
In 2004 Tougaloo College and the Mississippi Department of Archives and History (MDAH) entered into a Collaborative Partnership whereby a selective portion of the Tougaloo College Civil Rights Collections will be housed at MDAH for the purpose of maintaining, preserving, conserving, and providing broader access for scholarly research and study. Tougaloo College Civil Rights Collections presently housed at MDAH are:
Civil Rights Cases (General)
Rims Barber
Gladys Noel Bates
Ernst Borinski
Virgia Brocks-Shedd
Robert Clark
Clarity Educational Records and Transcripts
Tom Dent
L.C. Dorsey
Lawrence Durgin
Freedom Song
Fannie Lou Hamer
Aaron Henry
Charles Horowitz
Lance Jeffers
Jesse Johnson
Richard Johnson
Edwin King
Henry Kirksey
Kudzu
Joyce Ladner
James Lowen
Mary Lowen
James McRee
MDFP
Jessie Morris
John Munro
Annie Rankin
Republic of New Africa
Carol Silver
Robert L.T. Smith
Tracy Sugarman
Julius Thompson
Tougaloo Nine
Jerry Ward
Hilda Wilson
Aurelia Young
Lawyers' Commission