JPS - Tougaloo Early College High School Program Renamed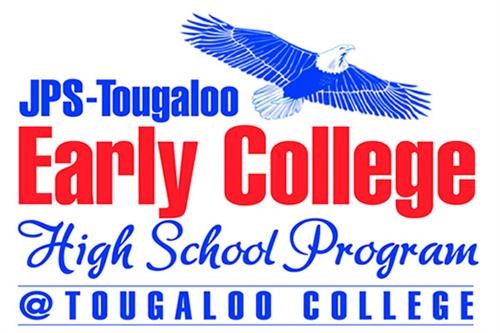 TOUGALOO, MS – After a two-year partnership between Jackson Public School District and Tougaloo College, JPS-Tougaloo Early College High School Program (JTECHS) has rebranded to become more closely aligned with the Tougaloo College Department of Education. Now serving over 100 students in grades 9-11, each cohort of JTECHS scholars is on track to complete high school graduation and associate degree requirements simultaneously.  
Housed on the historic campus of Tougaloo College, the JTECHS faculty and staff aim to fulfill their vision of becoming, "a top-ranked, model school of innovation." Under the leadership of JPS Principal Dr. Chinelo Bosah Evans, a 20-year veteran educator, the program seeks to support students representing subgroups that are typically underrepresented in college in their journeys to become college graduates. Many students who participate in this program will be the first in their families to earn a college degree.  
"What makes our Early College High School Program unique is the emphasis on student's voice, distributed leadership, a focus on innovation, and unparalleled efforts to invite the community, college faculty, and business sectors to take targeted roles in the process of educating this stellar group of students who represent all seven high schools in Jackson, Mississippi," said Dr. Evans.  
Each week, industry professionals host professional development sessions for students wherein scholars synthesize subject area content as they grapple with real-world activities to enhance college and career readiness. JTECHS is a true community school. Students are challenged to see, experience, and do what is learned, even in a virtual environment.
Tougaloo College provides an academic backdrop spanning 150 years. In this highly sought-after learning environment, JPS students are empowered to become acclimated to the collegiate environment beginning in the ninth grade. "Tougaloo College is committed to supporting our JTECHS scholars pursuing their academic dreams equipping them with the knowledge and skills necessary to succeed in life," said Tougaloo College President Dr. Carmen Walters. "They are very focused, driven, motivated, and devoted to their own educational experience. And, they enjoy being in a collegiate environment. We are ever proud to have these young people at Tougaloo and excited to partner with the Jackson Public School District where student growth and achievement are its highest priorities. It's a win-win partnership". 
ABOUT TOUGALOO COLLEGE
Tougaloo College is a private, independent, liberal arts institution, offering undergraduate
degrees in twenty-nine majors in the areas of education, the humanities, natural sciences and social sciences, and graduate degrees in education. Since its founding in 1869, the College has maintained a rich tradition of excellence, relevance, and influence, creating a legacy of distinction in higher education.
ABOUT JACKSON PUBLIC SCHOOLS
Jackson Public Schools is the second-largest school district in Mississippi, serving nearly 24,000 scholars, representing more than 80 percent of school-aged children in the state's capital and only urban municipality. Jackson, Mississippi has about 170,000 residents in an area of 104 square miles. There are 7 high schools, 10 middle schools, 32 elementary schools, and 5 special program schools comprising the District's 54 school sites. These schools are divided into 7 feeder patterns based on the high school receiving the area's scholars.