Jackson Heart Study Receives Continued Funding
Tougaloo College Principal Investigator Dr. Wendy White
Tougaloo, MS (August 21, 2018) – The Tougaloo College Jackson Heart Study Program contract was renewed for $6 million by the National Heart, Lung, and Blood Institute (NHLBI) and the National Institute on Minority Health and Health Disparities, (NIMHD) of the National Institutes of Health (NIH). The Jackson Heart Study, a partnership between Tougaloo College, University of Mississippi Medical Center and Jackson State University, is the largest single-site, prospective, epidemiologic investigation of cardiovascular disease among African Americans ever undertaken.  It is also the largest study in history to investigate the inherited (genetic) factors that affect high blood pressure, heart disease, strokes, diabetes and other important diseases in African Americans.  
The almost $6 million grant allows researchers and future biomedical scientists at Tougaloo College to study and share cardiovascular health findings with the community from August 2018 – August 2023. Studies like these are important because the Centers for Disease Control and Prevention describe heart disease as the leading cause of death in Americans.
Tougaloo College Principal Investigator Dr. Wendy White said the ongoing support from these organizations have afforded almost 200 students opportunities to study in the undergraduate training program.  Thanks to the Jackson Heart Study, more than half of those undergraduate students sought graduate and professional degrees in health-related sciences, following graduation from Tougaloo College.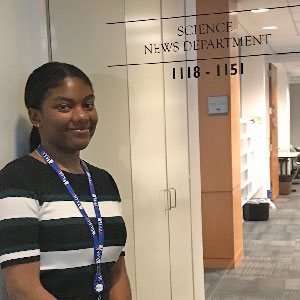 Tougaloo College Jackson Heart Study Scholar Shandria Sutton
"The Jackson Heart Study is so important for the community and our students," said White. "It's profound what we have accomplished. To say that we have been going strong for nearly 20 years speaks to how [the NHLBI] holds us in high regard."
White said the Jackson Heart Study Scholars are required to participate in summer research following their sophomore and junior year.
Tougaloo College Jackson Heart Study Scholar Shandria Sutton said her recent opportunities have prepared her for a future in science communication. "Over the summer, I was a minority science writer intern at Science Magazine. As an intern, I interviewed multiple scientists and engineers to write articles for the magazine's website. This experience has taught me the fundamentals of science journalism. Along with what I have learned about public health, this opportunity has helped me become more prepared for my future career in health communication," said Sutton, who is in her senior year.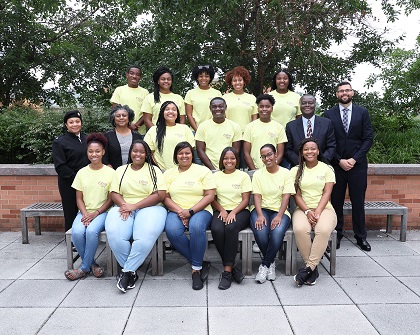 Twelve Tougaloo College sophomores visited a hospital at the National Institutes of Health
Other students who participated in summer research programs were exposed to many areas within the medical field such as research at Brown University through the Space Consortium. Another student participated in research in Ghana through a partnership with Brown University. Twelve sophomores visited a hospital at the National Institutes of Health and one of the newest attractions on outbreaks at the National Museum of Natural History.
Thanks to the continued funding for the Jackson Heart Study, Tougaloo College students will continue to receive training opportunities that are unique and will prepare them for advancement in local, national and global healthcare.  For more information, on the Tougaloo College Jackson Heart Study Program, visit https://www.jacksonheartstudy.org/Education/Undergraduate-Training-and-Education-Center.