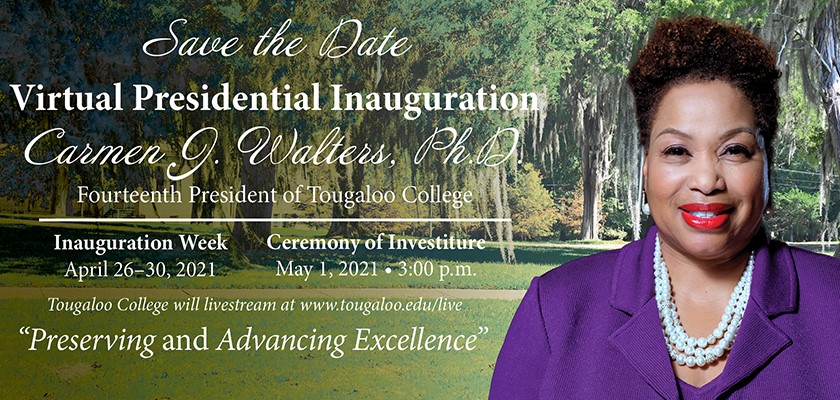 For Immediate Release
Tougaloo, MS, April 27, 2021—Tougaloo College marks another historical milestone with the formal investiture ceremony of Dr. Carmen J. Walters as the fourteenth president on Saturday, May 1, 2021, at 3 p.m. happening at Kroger Gymnasium in the Owens Health & Wellness Center. The inauguration schedule of events will commence between April 26-30, 2021, including the unveiling of Tougaloo College's trademarks and historic marker, campus flags unveiling ceremony, memorandum of understanding signing ceremony, academic symposium, distinguished lecture series, and an ecumenical prayer service.
The week-long events will be livestreamed online via www.tougaloo.edu/live. On Wednesday, April 28, 2021, guest speaker Ruth J. Simmons, Ph.D., President of Prairie View A&M in Texas will be the speaker for the President's Distinguished Lecture Series. Prior to the event, the official naming of the Dr. Ronald O. Schnell Art Gallery will take place in the Art Gallery of the Bennie G. Thompson Academic and Civil Rights Research Center.
Dr. Walters was appointed the 14th president of Tougaloo College on July 1, 2019 by the Board of Trustees, succeeding Dr. Beverly Wade Hogan, after serving the College for 17 years.
"The inauguration of a college president is a unique occasion. It offers us the opportunity to reflect on our rich intellectual traditions, highlight our core values, and share the Tougaloo story. It is a time to celebrate the College's new leader and vision who will advance the institution. Dr. Carmen J. Walters articulates the Tougaloo mission and vision with great conviction and passion. She is committed to advancing liberal arts education and vowing to honor the College's past while forging a strong future. She is focused on enhancing academic, research, fundraising, and student development opportunities. Dr. Walters has already made a huge impact on the College and the surrounding community. We are fortunate to have her leading the institution," said Chairman of the Board Edmond Hughes.
Since Dr. Walters's arrival to Tougaloo College in July 2019, her leadership is marked by a deep understanding of the current higher education climate and undergraduate experience, a demonstrated commitment to student engagement and success, and the creativity and courage to pursue innovative solutions and keen insight for financial matters. She supports participatory governance and shared accountability, with a personal obligation to support students achieving their personal, academic, and career goals. 
Following a successful first year, she has led the College through a historic fundraising year and has made a notable impact and formed many connections, relationships and comprehensive partnerships within the community and across the state. Dr. Walters earned a bachelor's degree in accounting and business administration from Southern University at New Orleans, a master's degree in postsecondary counseling from Xavier University of Louisiana, and a Ph.D. in community college leadership from Mississippi State University.
Tougaloo College invites all students, faculty, staff, alumni, and friends of the College to attend the virtual inauguration of our 14th president, Dr. Carmen J. Walters. Due to COVID-19 restrictions, only the program participants, family of the president, and a limited number of individuals will be permitted to attend the investiture ceremony.
For more information about the inauguration of Dr. Carmen J. Walters, please visit www.tougaloo.edu/inauguration-president-walters.