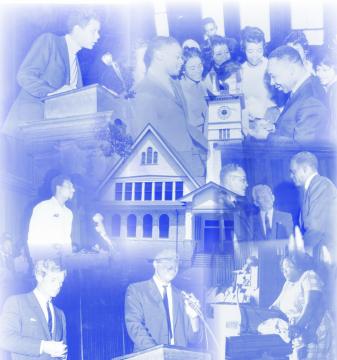 The spirit of Tougaloo College is embedded in the walls of Woodworth Chapel – the sanctuary for historic gatherings since its construction in 1901. During the Civil Rights movement, the Chapel was the venue for prominent activists and leaders some of whom are featured on the cover. The actions that grew out of these clandestine meetings changed the social, political and economic fabric of the state of Mississippi and the nation, helping to shape a more just and humane society.
The Chapel is the physical embodiment of Tougaloo College's core values. It has always been the spiritual center of the campus. Tougaloo alumni know the Chapel as not only as a sanctuary where they could come to reflect and collect their thoughts during exams or a moment of crisis, it was also where they were intellectually challenged by some of the greatest minds of the time. For others, it is a place of worship deeply rooted in the United Church of Christ and the Disciples of Christ. This Chapel is many things to many people. What is your cherished Chapel memory?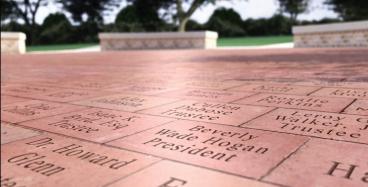 As a part of the extensive campus capital improvements, a brick plaza with benches was constructed in front of the Chapel. This Legacy Initiative pays tribute to the College's rich heritage and commemorates momentous occasions in the lives of thousands. It offers alumni, students, friends, churches and partners of the College an opportunity to leave their lasting mark by purchasing a paver. Honor friends, loved ones, mentors, your graduating classes, favorite organizations or purchase a piece of history for yourself. Your investment to the Chapel Legacy Initiative will support the Tougaloo College 1869 Annual Fund and sustain this historic institution's advancement of equality, freedom, justice and America's promise. Our legacy... Your legacy... The legacy continues with you…. Tougaloo College is a special place in all of our hearts. "Etch" your name into the College's history today!
For more information, call 601-977-7871. 
Download Order Form:
Order forms can be returned to Eleanor Jones by email at epjones@tougaloo.edu;
fax:  (601) 977– 4492 or mail:
OIA
500 W. County Line Rd
Tougaloo, MS 39174


 Woodworth Chapel Legacy Initiative Order Form
For Credit card purchase: 
Click: Donate Now
Select: 1869 Annual Fund
Enter Special Instructions or Requests: Woodworth Chapel Legacy Initiative