Ernst Borinski (1901-1983) was professor of sociology at Tougaloo College in Mississippi from 1947 until his death in 1983. He made an indelible impact on students, colleagues, black and white Mississippians, members of the Jewish community locally and nationally, sociologists throughout the South, and others across America. Tougaloo has undertaken to establish an endowed chair, "the Ernst Borinski Chair of Social Sciences," to keep alive the memory of his remarkable life and to further the goals for which he worked.
After escaping the Holocaust and serving in the U.S. Army, Borinski earned a degree in education in 1946 from the University of Chicago. In 1947 he came to Tougaloo, where he played a pivotal role in reshaping a fledgling sociology program. He earned a Ph.D. in sociology from the University of Pittsburgh in 1954. As a German Jewish émigré, Borinski understood that freedom is not just a matter of laws but also a state of mind. His discussions on sociological issues forced students to debate ideas. His mission was to develop students capable of thinking critically about the world in which they lived. Borinski lived simply in faculty housing at Tougaloo. From Tougaloo, he launched a stream of graduates who have spread across America, earning doctorates and master's degrees from prestigious graduate programs.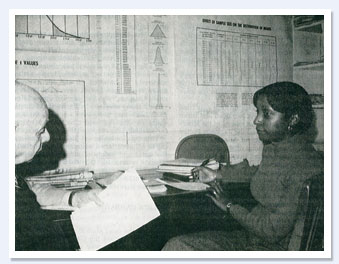 This endowed chair will provide a marvelous stimulus to Tougaloo College and will help it to attract a top-tier educator who will be able to provide students with an education that is academically exciting and ethically inspiring. It will honor a great man, ensuring that his name and story endure at the institution that was so dear to his heart.
Although Ernst Borinski spent half a lifetime trying, he did not redress the centuries of injustice that afflicted African Americans in Mississippi. The campaign for full economic opportunity and civil and social rights continues in the nation's poorest state. This endowed chair promises to recognize and advance that work, in several ways. It will help Tougaloo College in its central mission: providing students disadvantaged by race and class with education that is academically exciting and ethically inspiring. The Borinski Endowed Social Sciences Chair will continue his work in the social and intellectual context in which it began. It will help Tougaloo carry forward the role that Borinski charted by stimulating the entire metropolitan area through the presence of a major scholar. It will memorialize the contribution that Jewish educators have made to the cause of social justice in America. It will keep alive the memory of a most interesting person who found ways to work creatively for justice even in the most challenging of times and places. Thus, the legacy of Ernst Borinski, Ph.D., Professor of Sociology, friend, mentor, and extraordinary role model will be preserved for many decades to come.
For more information, download the Ernst Borinski brochure:

 Ernst Borinski Brochure
*Photos courtesy of Mississippi Department of Archives and History (MDAH)
Contact Information
We are here to help you with your donation plans. Feel free to call, email, visit, or write the Office of Institutional Advancement:
Mailing Address:
Tougaloo College
Office of Institutional Advancement
500 West County Line Road
Tougaloo, MS 39174

Campus Location:


Advancement Village

 

Office Hours:


Monday - Friday: 8am - 5pm

 

Staff Contact:


Eleanor Jones
Senior Administrative Assistant of
the Office of Institutional Advancement (OIA)
   601-977-7871
   epjones@tougaloo.edu