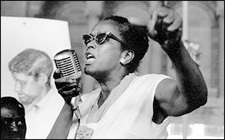 About Ella Josephine Baker
"Wherever she went," her biographer and friend Joanne Grant wrote in Ella Baker: Freedom Bound, "she created a whirlwind, leaving a scatter of papers, notes, leaflets, church programs, and phone numbers in her wake. . . She never let up her struggle to increase the role of the rank and file." - Read Ella Josephine Baker bio
Scholarship Information:
The Ella Josephine Baker Scholarship for Social Activism will award five (5) students $5,000 annually for two years, beginning in the 2014-2015 academic year. This scholarship is named for one of the most profound social activists of the 20th century. While serving in high profile positions in some of the most well known civil rights organizations, Ella Baker realized that young people had a voice that could affect positive social change. In 1960, she co-founded the Student Nonviolent Coordinating Committee (SNCC), which has deep roots at Tougaloo College due to students who joined the organization at the height of the 1960s Civil Rights Movement. Students chosen to receive this scholarship will be part of a legacy that has been embraced by many movement activists ranging from Robert "Bob" Moses to Hollis Watkins, Dorie and Joyce Ladner, and a host of others. Scholarship recipients must exhibit a passion for social change and community building. Recipients will be required to re-apply annually.
Careers in Social Activism:
Tougaloo College is moving forward on many different fronts. Its graduates are distinguished and engaged in meaningful work throughout the world. As the College navigates through the twenty-first century, student success remains our highest aim – ensuring that our students are prepared to meet the global challenges of a changing world. We remain committed to our time honored trademarks of academic excellence and social responsibility. Around the world, activists have dedicated themselves to improving the human condition. Activists have served as a voice for marginalized and underserved groups in the ongoing human rights movement. In the United States in particular, activism comes in many forms – ranging from grassroots organizing in local communities to participation in public rallies, challenging inquiring young minds in the classroom, lobbying for transformative federal legislation, and providing adequate healthcare.
Career Options in Social Activism:
There are very few careers that can be specifically defined as "activist" careers. The key to creating a career in activism is to find ways to bring your beliefs and values into your work. Just about any career choice can incorporate an element of activism if you are working towards societal change. Combining activism with your career choice may require creativity and resourcefulness on your part. For example, you could be a teacher contributing to activism by teaching your students about environmental, human rights and global issues.
Criteria & Award Details:
All applicants must be enrolled full-time at Tougaloo College, with a 2.5 GPA. Additionally, applicants must demonstrate a financial need. Each applicant will be required to submit the following:
A letter of interest that includes, but is not limited to, community service/activism, involvement in a service organization(s), philosophy on service/activism and how it relates to your educational and career goals, and a statement explaining why the Civil Rights Movement continues to be relevant in the 21st century
A proposal for a feasible social justice / community building initiative that can be implemented during the academic year
Two (2) letters of recommendation Upon award notification, scholarship recipients will be required to meet with the Coordinator of Civil Rights and Social Justice Initiatives at least twice per semester.
Dr. Daphne R. Chamberlain
Assistant Professor of History
Coordinator of Civil Rights & Social Justice Initiatives
Tougaloo College, Galloway 233
500 West County Line Rd.
Tougaloo, MS 39174
Email: dchamberlain@tougaloo.edu