Only two of six recent high school U.S. history textbooks cover the Mississippi Civil Rights Movement adequately.1 Most textbooks do not even mention Medgar Evers, Fannie Lou Hamer, Freedom Summer, or the other people and events that made headlines then and make history today. By way of contrast, the average textbook devotes several photographs, lengthy quotations, and a boxed mini-biography – as well as coverage in its main narrative – to Rev. Martin Luther King, Jr. Without question, King was important. Presenting the Civil Rights Movement as largely his creation does not do justice to the struggle in Mississippi, however, where King was peripheral, and omits the local people everywhere whose actions made the movement's successes possible. As a result of this treatment, to most Americans younger than 60 who are too young to remember it themselves, the Civil Rights Movement is almost synonymous with the name Martin Luther King, Jr. Its story thus becomes another account of the "great men of history," only a black man this time. This distorted memory provides little inspiration for young people today, since it gives little attention to the crucial actions taken by "ordinary people."
For more information, download brochure:

 Civil Rights Endowed Chair
The Significance of the Mississippi Civil Rights Movement
Across Mississippi, students, maids, garbage collectors, teachers, and farm workers took steps to win their full citizenship while facing the possibility of losing their jobs or even their lives. Residents in communities from Hernando in north Mississippi to the Gulf Coast opened their homes and their hearts to volunteers who came in to help people register to vote, to teach, to practice medicine and law, perform music and drama, and simply to live a desegregated life, thus violating the customs and laws of the "Closed Society."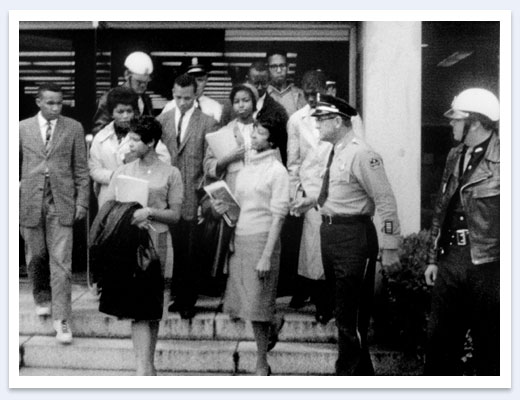 Photo courtesy of Mississippi Department of Archives and History (MDAH)
The Mississippi Civil Rights Movement is the story of important and courageous individuals like Dr. T.R.M. Howard of Mound Bayou, Clyde Kennard and James Meredith, Aaron Henry and Fannie Lou Hamer. It is also the story of people who came to Mississippi, for a summer, a year, several years, or the rest of their lives – people like the Freedom Riders, SNCC staffers, civil rights lawyers, Medical Committee for Human Rights doctors, Freedom Summer volunteers, and journalists who told the story to the nation. And it is the story of sharecroppers evicted from their homes because they registered to vote, students expelled from college because they participated in a march, teachers fired from their jobs because they sought equal pay with white teachers.
The Mississippi Movement is also the story of triumph. James Meredith did attend Ole Miss. Tougaloo students did eventually win the right to use the public library in Jackson. Civil rights lawyers did force the State Highway Patrol to hire black officers, the State Textbook Board to accept an accurate textbook in Mississippi history, and the university system to let the state's public black colleges have more programs. Doctors did bring modern medical care to underserved poor people in the Mississippi Delta, and the Head Start program did open preschools across the state. Today, Mississippians can vote, sit where they want on a bus, marry whom they choose, and attend school and play sports without being kept apart by race. Events like the Freedom Vote of 1963, Freedom Summer of 1964, the challenge at the 1964 Democratic National Convention, and the "Meredith March" in 1966 made national headlines and also played crucial roles in changing Mississippi and the nation.
Within Mississippi, few young people know this history. A survey of high school students in Jackson, the state capital, conducted about 2000 revealed that only one in five could identify Medgar Evers, the key leader of the freedom movement there.2 Elsewhere in the state, students would only do worse! A valuable heritage is being lost, for being forgotten.
The Role of Tougaloo in the Civil Rights Movement
Tougaloo College played a key role in the struggle for civil rights in Mississippi. Founded in the aftermath of the Civil War, Tougaloo was always an integrated institution, even during the Jim Crow era. Its liberal arts curriculum celebrated the dignity and worth of all people, and its graduates carried that message with them into the communities they served.
In 1948, Tougaloo graduate Gladys Noel Bates filed suit against the Jackson Public Schools seeking pay equal to that received by white teachers. The school system fired her, but her suit prompted the state to begin to equalize salaries by race. In the 1950s, Tougaloo's chaplain, William A. Bender, led NAACP efforts to register black voters. In the spring of 1961, nine Tougaloo students, members of the NAACP Youth Council, sat in at the Jackson Public Library, then open only to whites. They were arrested, held in jail overnight, and their trial the next day led to a police riot against the crowd assembled outside the courthouse in support. A year later, Tougaloo students and sociology professor John Salter launched a boycott against downtown merchants in Jackson, demanding jobs, formation of an interracial committee, and an end to racial segregation. The merchants and city officials refused to negotiate. When several students and Prof. Salter sat in at the downtown Woolworth's lunch counter, they were met by a white mob; the ensuing violence made national headlines. Tougaloo president Daniel Beittel joined the sit-in, an unprecedented step for a college president.
During the summer of 1963, Tougaloo students and faculty began a series of "pray-ins," in which integrated groups tried to attend Sunday services in white Protestant churches in Jackson. Usually they met stone-faced church deacons who denied them entrance. They also launched a successful campaign that persuaded prominent performers to refuse to appear before segregated audiences in the Jackson fine arts series. That autumn, Tougaloo chaplain Ed King was the candidate for Lt. Governor on the "Freedom Vote" ballot, the mock election held to demonstrate how white officials shut out black voters from real elections.
While most other colleges in Mississippi would have nothing to do with civil rights, going so far as to expel students who were active, Tougaloo served as a haven for civil rights activists. The College became known as "an oasis of freedom," where people of all races could talk on a basis of full equality. SNCC and CORE workers could meet on campus in a secure setting. Mississippi NAACP leader Medgar Evers found support at Tougaloo before his murder in 1963, and Tougaloo now owns his home and plans to develop it in his memory. Civil rights activists including Martin Luther King, Jr., Julian Bond, John Lewis, and Fannie Lou Hamer galvanized students, staff, and movement people from around the state in Woodworth Chapel. SNCC's Bob Moses worked with Tougaloo officials and the Field Foundation to initiate the "Work-Study Project," a program that enabled young Mississippians to participate in the movement and at the same time earn credit toward a college degree. A number of SNCC field secretaries, including Hollis Watkins, Euvester Simpson, Dorie and Joyce Ladner, Lafayette Surney, and MacArthur Cotton were also Tougaloo students working toward degrees. A Tougaloo graduate, Lawrence Guyot, became chairman of the Mississippi Freedom Democratic Party, which challenged the white segregationist delegation at the national Democratic convention in Atlantic City in 1964. The Free Southern Theater began at Tougaloo in the summer of 1964; in 1965 it produced Shakespeare and "In White America" across Mississippi and later moved to New Orleans. Tougaloo hosted the "Meredith marchers" on their last night before they entered Jackson in 1966, the last great civil rights march.
Tougaloo has also paid a price for standing by its principles. For decades, corporations in Mississippi made no contributions to the College. In 1962, the Mississippi State Sovereignty Commission provided files about the College to the [White] Citizens' Council, to enlist their aid in investigating and shutting down the College. The FBI infiltrated Tougaloo's student body, and J. Edgar Hoover added Tougaloo to his "enemies" list. The president of Brown University led a campaign that removed Beittel as president for being too pro-civil rights.
Nevertheless, more than any other institution in the state and perhaps the nation, Tougaloo has acted through the years on behalf of full civil, political, and social rights for African Americans, precisely the goal of the Mississippi Civil Rights Movement. As the movement wound down, the commitment of Tougaloo graduates to social justice did not waver. In 1967, for example, Jackson police officers shot and killed a student at nearby Jackson State University. Tougaloo students participated in a protest demonstration in Jackson. Concerned that their classmates would be caught downtown and arrested after a 10:00 p.m. police curfew, two Tougaloo seniors commandeered the college bus and brought them safely back to campus. One of the pair, Constance Slaughter (now Harvey), later became the first black woman to earn a law degree from Ole Miss and subsequently served as Assistant Secretary of State for the state of Mississippi. The other, Bennie G. Thompson, became mayor of Bolton, Mississippi, and since 1993 has served in the U.S. Congress.
Today, Tougaloo continues to educate African American students and nurtures not only their intellect, but also their idealism. As a result, Tougaloo graduates stand out as people who make a difference, once they graduate. To cite one example from the recent past: in August, 2010, Dr. Janell Vinson took up duties as pediatrician in Neshoba County, Mississippi. A Tougaloo graduate, she received her M.D. from Brown University. Neshoba County was of course notorious for the murder of the three Civil Rights Movement workers at the beginning of Freedom Summer in 1964. The county has already moved a long way. Even so, the impact that this young lady will make as its only pediatrician, hence not the pediatrician for black folks but for all children – black, white, and Choctaw – is revolutionary. Her young life illustrates the kind of excellence and commitment that Tougaloo still produces. For the past four years, The Princeton Review has listed Tougaloo among the Best Liberal Arts Colleges in the Southeast, partly owing to its students' demonstrated civic commitment after graduation.
Every day, Tougaloo still tries to create "the beloved community" that was the ultimate transcendent goal of the Civil Rights Movement. As part of this commitment, it is altogether fitting and proper that Tougaloo College honor the Mississippi Civil Rights Movement and the volunteers and local people who participated in it.3
The Role of the Civil Rights Chair at Tougaloo College
Simply establishing a Civil Rights Chair will honor and remember a great cause, a magnificent campaign. Every time a new recipient is named, that will be an occasion to retell the story of the Movement in Mississippi to the entire college community — students, faculty, and staff. Every time the occupant of the chair does something newsworthy, such as publish a book or start a new program, the title Civil Rights Chair will be part of the story. Over the years, knowledge of the Mississippi Civil Rights Movement will become a part of Tougaloo lore, like the Amistad story.4 Even the campaign itself will generate publicity within Mississippi and in national media like History News Network and the Chronicle of Higher Education. Tougaloo hopes to complete the campaign successfully by the summer of 2014, so it can announce the chair as part of the 50th anniversary of Freedom Summer and of the key role members of the Mississippi Civil Rights Movement and the Freedom Democratic Party played at the Democratic National Convention in 1964.
A second function of this chair is to enable the College to continue its proud tradition as a leader in the struggle for human rights, as a continuing legacy. The prestige and additional perks of the chair may make it possible for Tougaloo to bring to its campus the kind of nationally known scholar that it has not often been able to attract or afford. Such a professor will be a role model for faculty colleagues as well as students. Or having the chair may help retain an impressive faculty member who otherwise might be lost to national recruitment, by providing distinction and remuneration above and beyond "full professor." As well, because the professorship includes a small fund for research and teaching projects, its occupant will have opportunity to publish, present scholarly papers, and participate in other professional activities.
The chair will usually go to a professor in the social sciences, history, or African American Studies who combines teaching, scholarship, and work for social justice. Such a professor might also be found in education, English, or other departments. Always Tougaloo will select someone for the position whose work addresses the Civil Rights Movement and the issues it sought to remedy. Annually s/he will teach a course on the Civil Rights Movement.
Third, endowed chairs represent a crucial source of revenue for the basic underlying mission of the College. Tougaloo finds it possible, if not easy, to win foundation and governmental support for new programs. It proves very difficult to get support from such sources for the basic task of the institution: educating undergraduates. Tougaloo needs such funds, however, for it cannot possibly charge its students — who come from some of the most deprived communities in the United States — what it costs to educate them. If this campaign succeeds, as we think it can, it will result in the first fully endowed chair at the College. Moreover, Tougaloo is seeking additional endowed chairs. The success of this effort to fund the Civil Rights Chair will provide a shot in the arm to invigorate those efforts.
The Economics of the Civil Rights Chair at Tougaloo College
Of course, Tougaloo seeks help to fund this chair. Perhaps no college in America does more good with less money than Tougaloo. The College is well-managed fiscally and excellent educationally. Serving a constituency that has long been the poorest in the nation, however, Tougaloo has never managed to tap into a wealthy alumni database or make other connections to affluent Americans. The latest college rankings by U.S. News & World Report exemplify the problem. They list Tougaloo in the top ten of all historically black colleges, but every school listed above Tougaloo charges much more tuition. The September 2010 issue of Washington Monthly ranks Tougaloo #14 of 252 Best Liberal Arts Colleges, based on effectiveness in the areas of research, social mobility, and community service, and every college ranked higher charges much more. The National Science Foundation has ranked Tougaloo #26 in the country in proportion of graduates going on to earn Ph.D.'s in the sciences, second only to Spelman College among historically black colleges. Again, every college ranked higher costs much more.
Our hope is that participants in the Mississippi Civil Rights Movement, their relatives, children, and friends, and other Americans who value the example they set in the 1960s and afterward, will contribute to endow this chair. Doing so forms a fitting gesture of remembrance and solidarity with people in Mississippi who remain the poorest and least educated in the U.S.
The economics works like this: an endowed chair requires at least $2,000,000. Invested at 5%, $2,000,000 yields $100,000/year. Of that $100,000, $20,000 will be reinvested so the endowment can grow to keep pace with inflation. About $55,000 would be salary. $5,000 would be a research fund for the professor, to be spent on travel to meetings in his/her discipline or speaking engagements on behalf of social change, stipends for students as research assistants, books and other tools of scholarship, and the like. $20,000 must go to benefits (health care, retirement, etc.). Indeed, only because Tougaloo faculty members work so hard for so little can $2,000,000 suffice. Most other institutions of higher education demand more for an endowed chair. Moreover, to recruit a professor of national stature today requires more than $55,000. Thus, if contributions to this chair total more than $2,000,000, that would be a great help to the College.
Summary
The Civil Rights Movement did not correct the centuries of injustice that afflicted African Americans in Mississippi, but it did make a real difference. The campaign for full economic opportunity and civil and social rights continues in the nation's poorest state. This endowed chair offers a way to continue the work, in two important ways. It will help lift the veil of ignorance about the important events of the 1960s, and it will help Tougaloo College in its mission: providing students disadvantaged by race and class with education that is academically sound and ethically inspiring.
Send checks, earmarked "Civil Rights Chair," to:
Tougaloo College
Office of Institutional Advancement
500 West County Line Road
Tougaloo, MS 39174
 
Pledges of future support and estate bequests are also welcome. The campaign also welcomes your active involvement. If you are interested in helping in the campaign to raise funds for this endeavor, please contact Larry Morse at lmorse224@gmail.com. You may contact the Office of Institutional Advancement directly at 601-977-7871 or by email at oia@tougaloo.edu.
Endnotes
1Those are Danzer, et al., The Americans, and Boyer, Holt American Nation.
2That was before the Jackson Airport was renamed for Evers, an act that may help to some degree.
3For scholarly introductions to Tougaloo College, see Clarice T. Campbell and Oscar Rogers, Jr., Mississippi, the View from Tougaloo (Jackson: University Press of Mississippi, 1979); and John Dittmer, Local People (Urbana: University Press of Illinois, 1994). See also the famous memoir by Anne Moody, Coming of Age in Mississippi (NY: Delta, 2004 [1968]).
4Tougaloo's founding in 1869 was by the American Missionary Association, which in turn derived from the committee set up by Congregational Church members to defend the enslaved Africans who revolted and seized the slave ship Amistad.