Tougaloo College Division of Education hosts its first HBCU Roundtable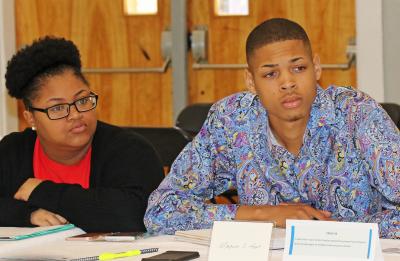 As the first HBCU in the state of Mississippi to offer a Bachelor's Degree in Teacher Education, Tougaloo College is leading conversations about the current state of education and using those conversations to transform curriculum to prepare pre-service teachers to become leaders in this field.
A part of the 2017 American Education Week activities in November, the Division of Education, Supervision, and Instruction hosted its first Mississippi HBCU Roundtable.  The theme was "Teachers as Change Agents in Under-Resourced Schools."  Three out of the five HBCUs in Mississippi participated including Jackson State University and Alcorn State University.  Dr. Wanda Newell, Chair of the Division of Education at Tougaloo, spearheaded the event because she saw a need to highlight the vital impact that teachers have on the education system. "Teachers are change agents. That concept moves teaching from a passive profession to an inspirational vehicle for change."
Dr. Newell adds, "If teachers can have a feeling of self-efficacy that allows them to know that they can change the education system, coupled with the support of the community, then I believe change will come."
Dr. Newell also believes that HBCUs have a vital role to play in this change. "This is an ideal time for HBCUs to shore-up. These change agents need proficient, rigorous, demanding, and competitive education preparation programs. HBCUs, such as Tougaloo, are equipped to motivate students about the truth and the freedom that education brings while helping them continue the legacy and mission of their ancestors." 
Dr. Newell and the newly appointed Dean of the Division of Education, Dr. Thea Black, both agree that a part of being a change agent is having a sense of community within the school system. Dean Black comments, "I am a graduate of Tougaloo and during my first year of teaching, I made a special effort to meet my students in their home environment.  I went out to introduce myself to the parents in their homes to see where my students lived. The coursework at Tougaloo taught me to do that." 
Dr. Black's vision for Tougaloo exemplifies these qualities and seeks to advance the notion of teachers as change agents.  "My vision is to make sure we are exposing our students to the field as early as possible.  During their freshman year, they should be out in the schools so they can see what it is like." 
She adds, "I want to teach them how to present and articulate themselves in a competitive environment. I want them to have the content and knowledge base they need to compete. I want to prepare our students so they can pass the Praxis, Praxis II, and the Foundations of Reading Assessment. My vision is to reclaim, retain, and represent in the Division of Education at Tougaloo College."
Dean Black and Dr. Newell intend to continue to carry the torch with more conversations on how to effectively move the state of education in a direction that continues to teach the leaders of tomorrow.