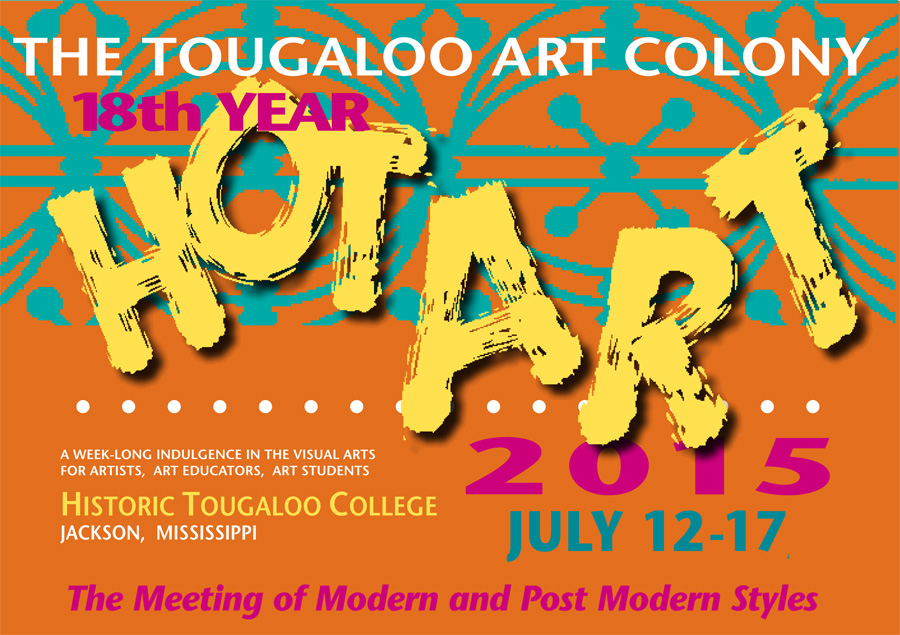 Click here to register
Schedule
HOT ART EXHIBIT, Ongoing Africa Oceania Exhibit, Art Scholar Lecture, Band Performance and ART TALKS located in Bennie G Thompson Building
JUNE 1-JULY 16
HOT ART EXHIBITION
SUNDAY, JULY 12
• 4:00 pm – 6:00 pm REGISTRATION
Holmes Hall Auditorium
• 6:00 pm PARTICIPANTS MEET WITH INSTRUCTORS
IN ASSIGNED STUDIOS
(Class located in Holmes Hall Auditorium
will meet in alternate location)
MONDAY, JULY 13 – THURSDAY, JULY 16
• 7:30 am – 8:30 am BREAKFAST - Warren Hall
(Instructors & Dormitory residents)
• 8:30 am – 11:45 am MORNING STUDIO SESSIONS
• 12:00 noon – 12:45 pm LUNCH - Warren Hall Dining
(Dormitory residents, TAs and pre-paid tickets )
• 1:00 pm – 2:15 pm ART TALKS - Benny G Thompson Bldg
Monday – Rabe's Ballin and InKyoung Choi Chun
Tuesday – Delita Martin and Ruth Miller
Wednesday – Lovie Oliver and Charlotte Webb
Thursday – Ann Johnson and Colony Participants
• 2:30 pm – 5:15 pm AFTERNOON STUDIO SESSIONS
• 5:30 pm DINNER (on your own)
• 7:00 pm – UNTIL* OPEN STUDIO WORK SESSIONS
THURSDAY, JULY 16 FREE PUBLIC EVENT
Bennie G Thompson Building
• 6:00 pm – 7:00 pm RECEPTION
• 7:00 pm – 8:30 pm BARBER Lecture & BORSIA performance
FRIDAY, JULY 17
• 7:30 am – 8:30 am BREAKFAST
• 9:00 am – 12:00 noon PUBLIC VIEWING OF STUDIOS
STUDIO CLEAN-UP
EVALUATIONS
CEU PAPERWORK SUBMISSIONS
• 12:00 noon – 1:30 pm Lunch and Wrap-up session
*CEU Applicants must complete a minimum of 40 hours (includes extended studio hours)
Artist Lineup
1. Rabe'a Ballin
Drawing Supply List
4 Sheets of high quality paper (30 x 22) Recommended: Reeves BFK (white)
Compressed Charcoal
Vine Charcoal
Assortment of erasers
Recommended: kneaded erasers, white rubber erasers

Soft graphite stick

Black Oil Stick

Assortment of graphite pencils

2 Black Prisma color pencils
Re-contextualize through Drawing
Remixing traditional approaches to subject matter through various drawing techniques, this workshop will explore the development of personal expression through a series of experimental texture based projects intended to help foster the development of individual and distinct styles.
2. InKyoung Choi Chun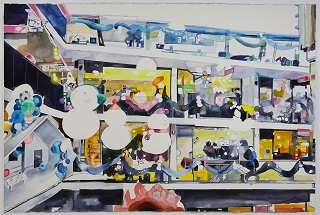 More than Just Water and Color
By manipulating a variety of techniques of water based media like laying washes, wet on dry, wet on wet, under-drawing, creating highlight, glazing and masking, participants in this workshop will get comfortable handling water based media; broaden their experience with composition and color; and discover new methods of channeling their creative energies.
http://inkyoungchoichun.com/home.html
3. Delita Martin
Color Shifting: Relief & Hand-cut Stencil Supply List
Relief Printing papers: BFK Rives 22x30 (several sheets)
(2) Flexible metal blade putty knife (approximately 1" blade) Used for inking can be purchased at any hardware store
(2 sheets) Mylar: can usually be purchased at art supply store in paper section. This will be used for cutting stencils. (Poster board if you are unable to find mylar)
X-acto knife
Single edge razor blade paint scraper with extra blades
Newsprint paper 18x24
Tracing paper 18x24
Aluminum foil paper
Masking tape, ¾" width
Shop apron, smock, or lab shirt
Assortment of drawing pencils
Metal ruler, 24", 36", and/or 48"
Paper Towels
Latex gloves
Mineral Spirits/Paint thinner
Wooden Spoon
Provided by Art Colony
Lino cut Tools (Dick Blick lino cut set works great and comes with several blades)
(2) Ink brayers (Medium and/or Soft) 4" and/or 6"
Oil based etching inks (Black, White, Yellow, Blue, Red)
(2 pieces) Battleship-linoleum: Un-mounted 9x12 - Some provided by Art Colony
Color Shifting: Relief Printing & Hand-cut Stencil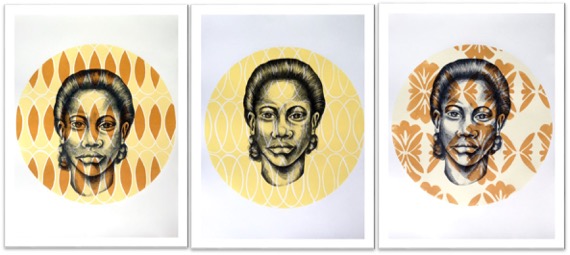 Merging the oldest form of printmaking with contemporary approaches to stencil making, Participants will combine linoleum blocks with hand-cut stencils to create multi colored, multi layered images. This combination will allow participants to experiment with graphic shapes, color and layering to become familiar with the amazing qualities of the printed image. By combining these techniques we will open our minds and explore new territories in the world of print.
http://www.blackboxpressstudio.com/Artist.asp?ArtistID=36607&Akey=5XCHL8AH
4. Ruth Miller
Tapestry Portraits: A Timeless Art
Return for a week to an era when the passage of time was of less concern than beauty and quality of workmanship, to a time when communities were willing to commit generations of craftsmen to the completion of a single great cathedral. Come sit with Ruth Miller and learn the Renaissance skill of making realistic portraits using the medium of hand-stitched embroidery.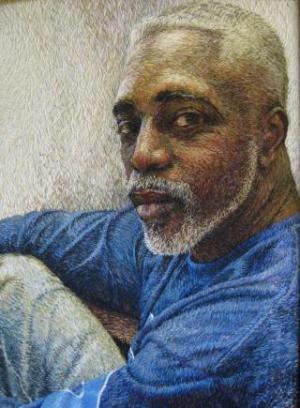 5. Lovie Olivia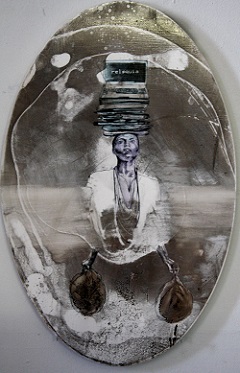 Modern Day Discoveries in Printmaking: Monotype and Digital Fresco on Plaster
An experimental printmaking workshop that utilizes the technique of mono-type and transfer process except, instead of the printing images on paper, students will be printing on plaster.
http://matriart.tumblr.com/post/62171528090/some-mixed-media-drawings
6. Charlotte Riley Webb
Abstract Painting Supply List
Students may work in any two dimensional medium of their choice
Painting or pastels, both black and white and colors
Papers, substrates of different textures and colors if you wish
A few charcoal pencils in various
If painting: watercolors with appropriate paper,
Canvas for acrylic paints, or oil paints (quick drying or oil medium to expedite drying time)
Brushes, palettes, sketch pads and all related materials
1 - 5x7" 2 inch picture mat - (any color)
Diving Into Abstract Art, Heart First
This class will address the artist's premise that abstract art is "not just about what you see, but more about how you feel about what you see." We will be exploring the relationship between sounds and visuals; and how abstraction is based on each artist's perception, intuitive ideology, interpretation and basic understanding of line, color, texture, composition, as well as all of the elements that define a visual and how to make them relevant in their work. "Abstract art goes to the depths of one's artistic soul." Artists may work in any two dimensional medium they choose.
THURSDAY ART SCHOLAR/SPEAKER
JULY 16, 2015 BGT AUDITORIUM 7:00 PM
Tiffany E. Barber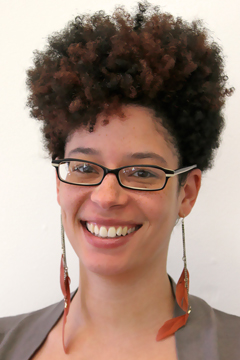 Getting the Black Art History We Require: A dialogue between Modern and Post Modern
Tiffany Barber is a scholar, curator, and writer of twentieth and twenty-first century visual art and performance with a focus on artists of the African Diaspora living and working in the United States. A PhD Candidate in Visual and Cultural Studies at the University of Rochester, she is completing her dissertation on contemporary black art and performance titled "Undesirability and the Value of Blackness in Contemporary Art."
As adjunct faculty at the University of Oklahoma and the University of Rochester, she has taught courses on the Harlem Renaissance, the Black Arts Movement, Afro-futurism, Post-blackness, gender and sexuality. Her writings on performance, art, and visual culture have appeared in Dance Research Journal, CAA reviews, Afterimage, Beautiful/Decay, Art Focus Oklahoma, and various exhibition catalogs and online publications, the most recent of which is Prospect.3.
Testimonials
About Tougaloo Art Colony
The Tougaloo Art Colony is a retreat for nationally acclaimed artists, emerging artists, art educators, art students, and interested adult learners to engage in dialogue and to create works that help extend the multicultural dimensions of America's visual arts culture. The Tougaloo Art Colony consists of seven days of studios led by guest artist instructors from a variety of media, geographic regions, and backgrounds. The daily studio workshops and the shared evening sessions provide a forum for artists to gain insight from instructors, to explain and talk about their own work, the work of other artists and to share and compare techniques and art theories. The close associations formed through a week of intensive study provide a network for ongoing relationships between artists and celebration through the arts, the common denominator of the human spirit and its relationship to our contemporary world.
Up to 6 CEU credits
1 hour college credit
Free Hot Art Exhibit
Free daily art talks
Choose studio sessions in art led by nationally known artists
Click here to register.
Hot Art Exhibit: Works by Art Colony Instructors exhibited from June 1 - July 16.
For additional information regarding the Tougaloo Art Colony, contact:
LaQuanda Fields
601-977-7772
lfields@tougaloo.edu
Johnnie M. Maberry
601-977-7743
jmmaberry@tougaloo.edu
Event Date:
Sunday, July 12, 2015 (All day)

to

Friday, July 17, 2015 (All day)