Tonya Boyd-Canon '08
From Times-Picayune:
"Tonya Boyd-Cannon, ex-New Orleans sheriff's deputy, gets 'Happy' on 'The Voice'"
Long before "The Voice," Tonya Boyd-Cannon raised hers wherever and whenever possible...

 Read more...
Robert Watson '69
Robert Watson '69 was one of two faculty members at Hampton University who earned the distinguished teacher of the year award for the academic year 2013-2014.  The award is named in honor of Edward Hamm, Sr., an outstanding Virginia businessman.
Albert Carter '03
A 2003 graduate of Tougaloo College with a B.A. in English, Carter will be graduating on December 12, 2014, from the University of Southern Mississippi with a PhD in Education Administration. The Greenville native earned the Master of Arts in Education from Mississippi College. He currently resides in Byram, MS, and works at the Mississippi Department of Education.
Dr. Bobby Cooper '61, Honored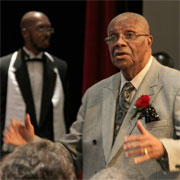 Dr. Bobby G. Cooper '61, Bolton, Mississippi, is being honored for more than 40 years of service to the Utica Campus of Hinds Community College.  On September 25, the Fine Arts building on the campus was named in his honor.  As director of the Jubilee Singers, Dr. Cooper has brought local, regional, national and international accolades to the College.  A consummate performer and educator, in addition to being a Tougaloo College alumnus, Cooper is also a graduate of the University of Illinois and the University of Colorado and furthered his studies at Chicago Musical College.

Read more...
Esther Collins, '52, Honored Posthumously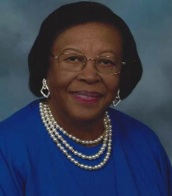 Collins was a 1952 graduate of Tougaloo College who was well known for her efforts to improve education for children in the Los Angeles Unified School District.  It is only fitting that the Los Angeles Unified School District recently renamed a downtown early education center in Collin's honor. 
Located at 901 West 52nd Street in Los Angeles, the former 52nd Street Early Education Center has now been renamed the Esther Collins Early Education Center, a fitting tribute to this Tougalooian who fought so hard for educational opportunities for the underserved children of Los Angeles.

Read Ms. Collins bio...
Johnnie Mae Maberry '70 named Distinguished Alumna of the Year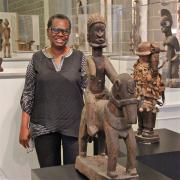 Professor Johnnie Mae Maberry was recently selected as Distinguished Alumna of the Year for the Art Department at Mississippi College. 
Maberry will be honored at the Hall of Fame Banquet during Mississippi College's 2014 Homecoming Week activities. 
Dr. Francesca Wilkins Joins Medical Staff at St. Bernards Clopton Clinic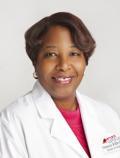 Dr. Francesca A. Wilkins has joined the medical staff at St. Bernards Clopton Clinic as an endocrinologist.
She comes to St. Bernards after completing a two-year fellowship in endocrinology at Tulane University School of Medicine in New Orleans.
Wilkins, who holds an M.D. degree from the University of Mississippi School of Medicine, completed a residency in internal medicine at The Cleveland Clinic in Cleveland, Ohio. She holds diplomat status in the American Board of Internal Medicine.
Her professional affiliations include the American Association of Clinical Endocrinologists and the American Thyroid Association.
A native of Jonestown, Miss., she earned a bachelor's degree in chemistry from Tougaloo College in Tougaloo, Miss. She is a graduate of Coahoma Agricultural High School in Clarksdale, Miss.
Prior to moving to Jonesboro, Wilkins was a member of New Zion Baptist Church in New Orleans, where she was active in Sunday School, Bible study, Sunday morning worship and community outreach projects.
She is seeing patients with a variety of endocrine problems, including thyroid, pituitary and bone disorders and diabetes mellitus, at St. Bernards Clopton Clinic, 300 Carson. Patients wishing to make appointments may contact the clinic by calling 870-932-1198.
Wilkins is a member of St. Bernards Healthcare Associated Regional Providers (SHARP) and St. Bernards Medical Group.
Tougaloo College Graduate Makes History at The University of Alabama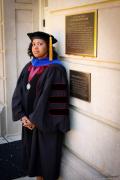 On May 2, 2014, Sharifa made history by becoming the first African American female to graduate from the Department of Chemistry at The University of Alabama in Tuscaloosa with a Doctorate of Philosophy. Her area of specialty is Biochemistry.
Sharifa T. Love-Rutledge '08 was an inaugural member of the Tougaloo Honors College. While at Tougaloo, she was a member of the Theta Gamma chapter of Sigma Gamma Rho Sorority Inc. Sharifa was also a McNair Scholar where she participated in summer research at The University of Mississippi. She was also a Lois Stokes Mississippi Alliance for Minority Participation Scholar and was named 2008 Outstanding Scholar from Tougaloo College.
After graduating Magna Cum Laude from Tougaloo, she went on to The University of Alabama to pursue her PhD. She has presented research at several national and international scientific meetings such as the International Conference on BioInorganic Chemistry, American Chemical Society National Meeting, and Society of Toxicology National Meeting to name a few.
Dr. Love-Rutledge will be moving to Lansing, Michigan where she will be working as Postdoctoral Research Associate in the Department of Physiology at Michigan State University.
Tougaloo alumna shining in Massachusetts

"Geraldine S. Hines, a child of the segregated South who became a civil rights attorney and appeals court judge in Massachusetts, will be the first black woman to serve on the state's highest court, if confirmed by the Governor's Council." - Boston Globe

Read more
Anthony McIntyre '05 and Reginald Buckley '94 in the "Dudes We Dig" issue of JFP
Jackson Free Press' 2014 Dudes We Dig consist of men who help their communities, including a veteran who is an veterans' advocate, a conservative baker who is fighting against the recent passage of SB 2681, a veteran who helps fight obesity in...

Read more
Waikinya Clanton '08 Named to List of Rising Political Leaders

A Canton, Mississippi native, Waikinya Clanton is one of Washington's youngest women to watch. With several years of Capitol Hill experience, Waikinya currently serves as the Executive Director of the National Organization of Black Elected Legislative Women (NOBEL Women).

Read more
Congratulations to Jamilah Perkins

Congratulations to Tougaloo Alumna Jamilah Perkins '11, who has just been accepted to Meharry Medical School in Nashville!  
Perkins was a magna cum laude English major and a Jackson Heart Study Scholar.  She will begin her studies at Meharry this fall.
Dr. Kentrell Liddell '96

Dr. Liddell, a physician, was chosen to judge the Best of Fair for the 2014 Mississippi State Science Fair.  She is a published author and a long-term member of the Crossroads Film Society Board of Directors.  She and her son recently published their second Taru Book.  Dr. Liddell is a member of Joyce Meyer's Volunteer Ministry team.  Her next medical mission trip is Madagascar, Africa in June. 
Meshach H. Barker '10

Air Force Reserve Airman Meshach H. Barker graduated from basic military training at Joint Base San Antonio-Lackland in San Antonio.
The son of Monique Barker, of Park Forest; and grandson of Sofronia Barker, of Chicago; is a 2006 graduate of Thornton Township High School in Harvey and earned a bachelor's degree in 2010 from Tougaloo College in Tougaloo, Miss.
Eddie Rhodman '82

Eddie Rhodman '82 (pictured on the right) was nominated for the 2013 Information Technology Management Association Award: Outstanding IT Career Achievement Award by Lee Gregory, Chief Information Officer for the Department of Children's Services pictured on the left.

Read more
Mia Ellis, 09

Mia Ellis, who received her MFA from the Brown/Trinity program, joined Trinity Rep during the summer and has since performed in "The Grapes of Wrath" at Trinity and "Good People" at the Gamm Theatre. Now she has the lead in Trinity's "Intimate Apparel."

Read more
Dr. Marshala Lee '07

Tougaloo College congratulates Dr. Marshala Lee '07, a former JHS Scholar, who has made the finalist list for the Mongan Commonwealth Fellowship Fund in Minority Health Policy at Harvard University.
She will interview on February 10, 2014.  To wish her well:  marshalalee@yahoo.com
Dr. Henry J. Young '67

Dr. Henry J. Young, a visiting professor at Hood Theological Seminary, marched as a college student in Mississippi with Dr. Martin Luther King Jr. The 70-year-old instructor will be presenting the annual Heritage Lectures at Hood on Feb. 6.

Read more
Tommie Mabry '11

Tommie Mabry '11, former Mr. Tougaloo College, published his first book, "A Dark Journey to a Light Future," to critical acclaim and a warm reception.  Mr. Mabry has had book signings and public appearances all over the city and has been featured on WLBT-TV 3 where he was interviewed by Walt Grayson.  For more information about the book, visit his Facebook page at https://www.facebook.com/tommie.mabry. 

Read Mabry's bio
Pages