Ebony HBCU Campus Queens
Vote for Kierra Jones
Vote today and every day until January 20th so OUR queen can be recognized!!!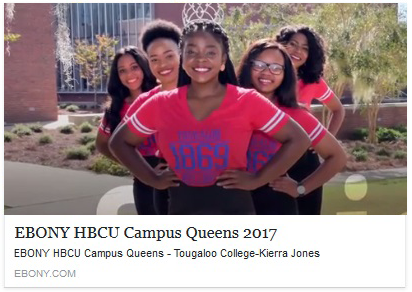 http://www.ebony.com/campusqueens-2017/contestant/tougaloo-college
Alumni Affairs
The Office of Institutional Advancement's Alumni Affairs supports the institutional mission, vision, goals and priorities; fosters a spirit of cooperation, communication and fellowship among alumni to provide benefits, programs and opportunities through a continued affiliation with Tougaloo College. The office works closely with the Office of Enrollment Management to attain the College's student enrollment goals, with the Pre-Alumni Council to build the bridge between students and alumni and provides administrative support services for the Tougaloo College National Alumni Association.
Stay Connected...Update Your Contact Information!
Right click the link below and select "Save link as..." or "Save Target as...", depending on browser, to download this editable .pdf file. Fill in the necessary information and return via e-mail by clicking the blue link in the bottom right corner.

Go to the "Update my Records" form
2014 WATAC Golf-a-Thon

Washington Area Tougaloo Alumni Chapter Golf Marathon
It's a day of golf during Tougaloo College's Founders Week on October 16, 2014, at Eagle Ridge Golf Course, Hinds Community College, Raymond, MS, to raise serious money for the Tougaloo College general scholarship fund.

Click here for details and registration.
Gulf Coast Tougaloo College alumni chapter offers $2,000 scholarship
Mississippi Press (blog) - GULFPORT, Mississippi - The Gulf Coast Chapter of Tougaloo College Alumni is offering a $2,000 scholarship to a deserving high school senior who ...

Read more
Congratulations to our Class of 2014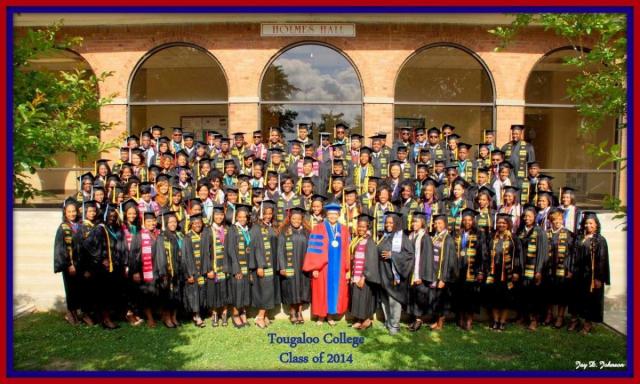 "An Ordinary Hero"

Washington DC Alumni Chapter offers new DVD, "An Ordinary Hero" the true story of Joan Trumpauer Mulholland '64, as a fundraiser.
Click here for more information....
Contact Information
We are here to help you with your donation plans. Feel free to call, email, visit, or write the Office of Alumni Affairs:
Mailing Address:
Tougaloo College
Office of Alumni Affairs
500 West County Line Road
Tougaloo, MS 39174
 601-977-7836
 601-977-4492

Campus Location:
Alumni House

Contact:

Doris Bridgeman
Director of Alumni Affairs
  601-977-7836
  dbridgeman@tougaloo.edu

 

 top