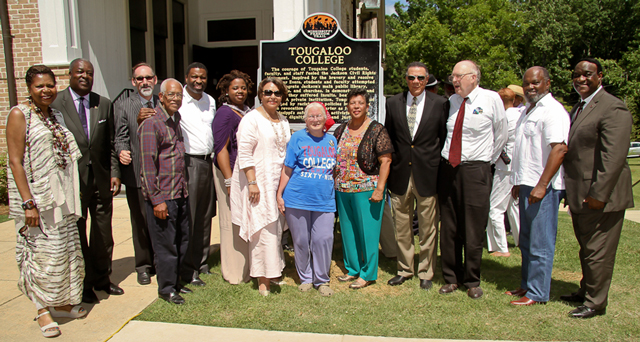 The Center on Higher Education Reform's 2014 report, "Access, Affordability and Success" lists Tougaloo College among only nineteen four year colleges in its sample with graduation rates greater than 50%, a net price lower than $10,000 and more than 25 percent Pell enrollment. It is both the smallest college and the only HBCU included on the list.
In the recently released (August 2013) U. S. News and World Report's list of "America's Best Black Colleges," Tougaloo College is ranked in the top 20 (#14).
In the September 2013 issue of Washington Monthly magazine, their annual list of Best Liberal Arts Colleges ranks Tougaloo at #50 (of 253), based on its effectiveness in the areas of research, social mobility and community service. That rank is the highest of any Mississippi institution on the list.
The National Science Foundation has ranked Tougaloo College in the top 50 (#26) institutions in the country whose graduates go on to earn Ph.D.s in the science and engineering disciplines, second only to Spelman College among HBCUs.
And finally, Tougaloo College has consistently been listed among the Best Liberal Arts Colleges in the Southeast in The Princeton Review and U.S. News and World Report.
Tougaloo College recently was awarded a Mississippi Freedom Trail marker, which was dedicated in May, 2013. The marker recognizes the College's pivotal role in the Civil Rights Movement (photo from dedication ceremony).
"We are buoyed by our most recent competitive rankings," says President Beverly W. Hogan. "They attest to Tougaloo College's long standing legacy of academic excellence and social responsibility. It is important work that we do. Our future is one of infinite possibilities as we position the College to respond effectively to the changing demands of higher education and maintain our commitment to student learning. The marker recognition serves to cement, in the public psyche, Tougaloo College's long standing commitment to issues of civic engagement and social justice."