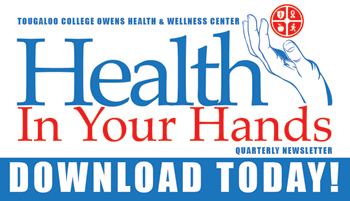 The Tougaloo College George A. and Ruth B. Owens Health and Wellness Center (OHWC) is a community resource facility designed to provide primary health care and preventative health services through wellness and nutrition education, and physical fitness programs. People today are conscious of their physical health condition and possess a desire to improve their lifestyles by engaging in fitness regimens.
Our center provides a variety of exercise programs that target each member's desired goals. A brief interview with each new member is conducted to determine his/her desired health and wellness goals.
Special Notice
The Central MS Area Health Education Center is looking for two 2 dedicated students to carry out various  functions within our organization as part of their community service.
Students are needed to conduct outreach within various Counties in Mississippi to help residents learn about the Affordable Care Act (ACA) and get enrolled. We also need students to help develop organizational brochures, newsletters, prepare updates for our website, and other duties that are assigned by supervisory staff.
Central MS AHEC serves as the workforce development division of the Owens Health and Wellness Center. Our office is located at the Jackson Medical Mall, Suite 3320. Contact Johnnie Hawkins or Candis Patterson for more info at (601) 987-9463.
Testimonials



Contact Information
We are here to help you. Feel free to call, email, visit, or write the Owens Health and Wellness Center.
Mailing Address:
Tougaloo College
Owens Health and Wellness Center
500 West County Line Road
Tougaloo, MS 39174
 601-977-6160
 601-977-4493

Campus Location:
Owens Health and Wellness Center

 

Contact:

Sandra Hayes, DrPH, MPH, MCS
Executive Director
Tougaloo College Owens Health and Wellness Center
Interim Director
Tougaloo College Institute for Bio Health and Informatics
  601-977-6179
  shayes@tougaloo.edu

Gary L. Anderson II
Assistant Director
Tougaloo College Owens Health and Wellness Center
  601-977-6177
  ganderson@tougaloo.edu

Dominica Sheriff
Administrative Coordinator
  601-977-6160
  dsheriff@tougaloo.edu

Patrice Jacobs
Health Educator/Project Manager
  601-977-7701
  pjacobs@tougaloo.edu

George Patterson
Director of Campus Life and Community Outreach
  601-977-7797
  gpatterson@tougaloo.edu

Robert Payne
Fitness Manager
  601-977-4427
  rpayne@tougaloo.edu

Rachel Owens
Senior Outreach Coordinator
  601-977-4437
  rowens@tougaloo.edu

Fannie Sanders
Senior Outreach Coordinator
  601-977-4437
  fsanders@tougaloo.edu

Georgia Knight
Senior Outreach Coordinator
  601-977-4437
  gknight@tougaloo.edu

Angelique Lee
Program Administrator of Y.O.U. C.A.N! Institute
  601-977-7910
  alee@tougaloo.edu

Kristen Harris
Prevention Specialist of Y.O.U. C.A.N! Institute
  601-977-6142
  kcharris@tougaloo.edu

Johnnie M. Hawkins
Director of Center Mississippi Area Health Education Center (AHEC)
  601-987-0272
  jhawkgroup@tougaloo.edu

Campus Medical Clinic
(Operated by Central Mississippi Health Services, Inc.)
  601-957-6776
 601-957-8840
Hours: Monday – Friday, 8:00 AM to 5:30 PM

Dr. Janice Bacon, MD
Pediatrician & Director of Clinical Quality
Available Monday & Friday

Morlyn Russell, FNP
Family Nurse Practitioner
Available Monday - Friday

Campus Dental Clinic
(Operated by Jackson-Hinds Comprehensive Health Center)
  601-978-3095

Dr. Rose T. Straughter, DMD
Dental Director
Available Tuesday & Wednesday, 8:00 AM to 5:30 PM