Affordable Care Act Education and Training: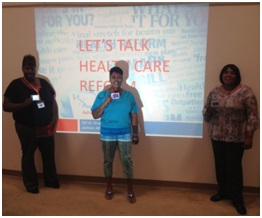 This community workshop entitled "Let's Talk Health Care Reform" introduces consumers to the Affordable Care Act, the Mississippi Health Exchange Marketplace, and the Open Enrollment process. Two-hour trainings are offered to communities in Central Mississippi and the Mississippi Delta. To request training on the Affordable Care Act or apply for health coverage, contact our office at: (601) 987-9463.
Reducing Health Disparities through Capacity Building Using Community Health Workers (CHW):
This initiative assesses and develops a profile of the state's CHW workforce; helps clinical teams and communities reduce health disparities using CHWs to promote health education and teach prevention; educates stakeholders (doctors, hospitals, clinics, social service agencies, faith-based groups, and policymakers) about the role of CHWs in healthcare delivery; recruits and trains CHWs, and is pursuing credentialing for the CHW workforce. To request CHW training for your clinic, church, or social service agency, contact our office at: (601) 987-9463.
Community Health Worker Certification Program:
This program outlined the standards of practice for the proposed Community Health Workers (CHW) Certification Program and seeks licensure and credentialing for Mississippi's CHW workforce. To find out more about our core competency training and continuing education training for CHWs, contact our office at: (601) 987-9463.
Chronic Diseases Self-Management Program:
This Stanford-based training model uses MSDH-approved training leaders to facilitate small group training to individuals living with chronic diseases such as diabetes, hypertension, heart disease, and obesity. Individuals learn new skills that help them self-manage their condition and improve their lifestyles through exercise, nutrition, and stress management. The training is conducted over a six-week period. Participants attend one two-hour session per week. To request the chronic disease training for your church or organization, contact our office at: (601) 987-9463.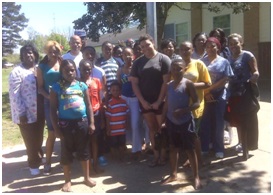 Youth Health Service Corps (YHSC):
This pipeline training program increases awareness among students in grades K-12 about health, diseases that impact health, prevention, and health careers. The class is offered in school-settings during the regular school year, and culminates with a community service project. If your school would like to participate in the YHSC, contact our office at: (601) 987-9463.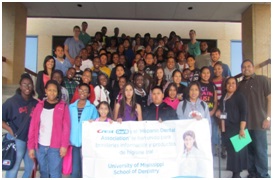 Science Training Enrichment Program (STEP):
This pipeline training program increases awareness among students in grades 6-8 about careers in health. Students learn about the human body, receive the academic enrichment needed to prepare for a health career, tour the various departments within hospitals, meet doctors and health professionals, and get to know how hospitals and large health systems function.
Internships and Community Service:
This workforce readiness program exposes students pursing undergraduate, graduate, and doctoral degrees to the field of public health, research and data collection and analytics, health education and promotion, program development, and current practices used in public health to improve national health outcomes. Students gain hands-on experience that fulfills graduation requirements, builds workforce skills, increases the likelihood of acceptance into advanced degree programs, enhances their curriculum vitae, and demonstrates how rewarding careers in public health can be.