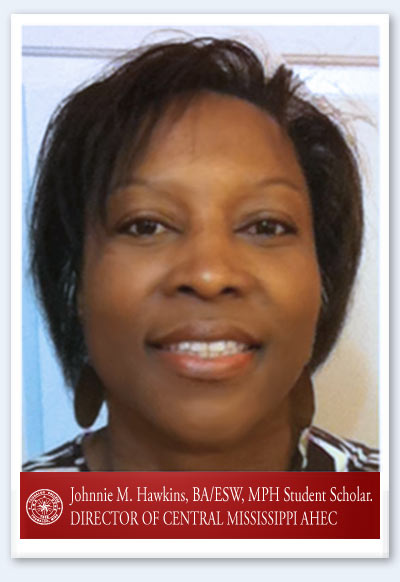 Johnnie Hawkins currently serves as the director of the Central Mississippi Area Health Education Center (Central MS AHEC). The center functions under the auspices of the Owens Health and Wellness Center at Tougaloo College, and is located in the Jackson Medical Mall Thad Cochran Center.
The environment and its connection to diseases (how they originate, spread, and affect the population ) are among Johnnie's strongest interest areas. She is currently studying environmental epidemiology and plans to continue utilizing her assets to improve health outcomes within underserved communities.
Johnnie has researched several topics including Racial Profiling , Driving While Black (DWB), and Texting While Driving (TWD). Her current manuscript, "The Association Between Physical Activity and Cardiovascular Disease in Jackson Heart Study Participants," is being reviewed for publication.
Her undergraduate training was completed at Tougaloo College where she received a Bachelor of Arts in Sociology/Emphasis in Social Work. Johnnie is currently completing her public health coursework at the School of Health Sciences, Jackson State University. Johnnie resides in Ridgeland, Mississippi.
Johnnie M. Hawkins, BA/ESW, MPH(c)
Director of Central Mississippi Area Health Education Center (AHEC)


  (601) 987-9463


  jhawkins@tougaloo.edu