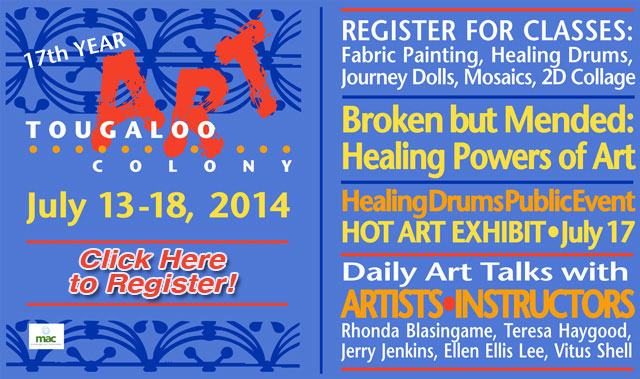 2014 Artists:
Rhonda Blasingame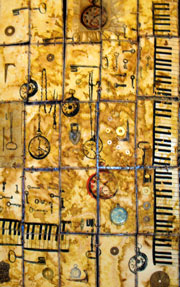 Although a self-taught fiber artist and fabric painter, Rhonda has a background in quilting so has always been immersed in textiles and fiber. She has taught extensively around the southeast and has pieces in private and corporate collections around the country, and has exhibited in solo, group, juried and invitational art shows. She is an exhibiting member of the Craftsmen's Guild of Mississippi and a member of the Contemporary Fiber Artists of Louisiana. She has served as a Master Quilter through the MS Arts Commission Folk Art Apprentice program for the last 4 years.
"The Magic of Fabrics"
Participants will create their own hand-painted art fabrics by utilizing different techniques to achieve a variety of visual textures. Come prepared to create yards of beautiful, unique fabrics that speak to who you are as an artist.
Blasingame Supply list:
Minimum of 10 yards of white fabrics (This can be any type of fabric from clothing to linens to muslin yardage).
Spray bottle
Plastic cups
Foam brushes
Acrylic or fabric paint
Ellen Ellis Lee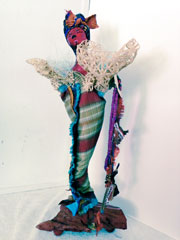 Artist Statement: I create one-of-a-kind mixed media figurative sculptures, vases and wall art. My creative partners are clay, textiles, paint, paper, wood, nature's gifts, recycled and re-purposed goodies, and using my collection of goodies is so much fun. The marriage of juxtaposed entities is very appealing to me. Instinct dictates all creative decisions. The materials used, how colors and textures are combined, or when to hem or leave fabric edges raw, also do I glaze or leave unglazed? I love power tools, just added a scroll saw to my collection. The iron, sewing machine and kiln are essential. I'm inspired by music, nature, fashion, costumes, African Art and tribal dress.
Oh! Remember to look for my signature hearts on all figurative work. My people come with short blurbs that give an insight as to why they exist. I'm so grateful for being able to express myself in this way. Every day is so interesting and I am pleased when I find out what the day presents to me. It's like my playhouse ... what fun for me and I sincerely hope that my work gives others pleasure.
"Journey Dolls"
..an upbeat and uplifting workshop. Sewing skills NOT required
"JOURNEY DOLLS" embrace ALL of our life experiences. You know the saying, "what don't kill ya will build ya." Life presents us with good, as well as, challenging experiences which contribute to our growth and development. However, we benefit most we when focus on positive thought and decisions. Our goal is to build two dolls each will be 8" tall on a 2" pedestal; one to keep and one for a gift.
Ellen Lee Supply List:
Air drying clay
Wire
Fabric Paper
Acrylic Paint
Personal treasures, Found objects, Beads, Buttons
Joy!!! Fun!!! Love!!!!!!
We will embrace and celebrate the value of LIFE.
Teresa Haygood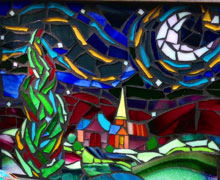 After several years of working in stained glass through her business, Creative Minds Glass Studio, Teresa decided to put the leftover glass pieces to use. She made her first mosaic in the summer of 1998, and it was love at first creation! She continued to hone her craft in this ancient art form, and in the fall of 2004, she was admitted in the Craftsman's Guild of Mississippi. She finds her greatest passion in teaching this beautiful art form to others.
"Intro to Mosaics"
Have you ever wanted to learn how to create your own mosaic? This class will teach you everything you need to know to make beautiful mosaics for the home and garden. We will learn the process of mosaic design, including how to cut and shape glass, how to choose proper adhesives, and techniques to grout the final project. Students will leave class with the fundamentals needed to create mosaics on their own. Come join in the fun and experience the joy of creating through this ancient art form!
Haygood Supply List:
Sketch book
Creative ideas
Image references
Jerry Jenkins (Thursday Evening Presenter and Workshop Leader)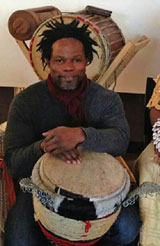 A performing artist of West African djembe drum ensemble, Jenkins involves the use of traditional instruments, rhythms, and player, he teaches, entertains and exposes children and adults to West African drumming.
"Healing Drums Workshop"
DJEMBE DRUMS is known as the drum that heals the people. The songs, rhythm, and the stories that encompass the lives of the people is known to raise the sick out of their beds and cause the tired to revitalize their souls. Come join the Bara (drum circle) and learn to play the Djembe, songs and stories that help keep the people community life.
Jerry Jenkins Supplies: Drums provided
Vitus Shell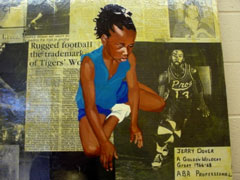 His paintings encompass a depth and intensity usually displayed in the work of artists far past his age. While a student at MCA, the Monroe, La., native traveled and learned more about different cultures and art forms. He attended the National Black Fine Arts Show in 1999 for the first time and received a firsthand view of the inner workings of the art world. Shell is currently the vice president of NIA, a support organization for young artists based in Memphis, Tenn. To date, he has accumulated an impressive list of achievements, some of which include: participating in exhibits at universities, museums, and private galleries across the country; painting a mural for the National Civil Rights Museum's NBA Pioneers exhibit; and being commissioned to do public art by the Memphis Urban Art Commission.
Ultimate 2D Collage and Printmaking
Description: Using paper and various materials of their choice, the participants will explore imagery with collaging in different forms such as cutouts, printmaking and more. The participants will leave the class with new ideas for future works.
Vitus Shell Supply list:
Acrylic Brushes
Printmaking or Acrylic Paper (3-5 sheets)
Acrylic Medium
Tracing paper
Old Books, Magazines & 3 or more images (preferably copies of family photos, someone who inspires you or self-portraits.)
Testimonials
About Tougaloo Art Colony
The Tougaloo Art Colony is a retreat for nationally acclaimed artists, emerging artists, art educators, art students, and interested adult learners to engage in dialogue and to create works that help extend the multicultural dimensions of America's visual arts culture. The Tougaloo Art Colony consists of seven days of studios led by guest artist instructors from a variety of media, geographic regions, and backgrounds. The daily studio workshops and the shared evening sessions provide a forum for artists to gain insight from instructors, to explain and talk about their own work, the work of other artists and to share and compare techniques and art theories. The close associations formed through a week of intensive study provide a network for ongoing relationships between artists and celebration through the arts, the common denominator of the human spirit and its relationship to our contemporary world.
Up to 6 CEU credits
1 hour college credit
Free Hot Art Exhibit
Free daily art talks
Choose studio sessions in art led by nationally known artists
Click here to register.
Hot Art Exhibit: Works by Art Colony Instructors, Participants, National and Local Artists featured. [ARTISTS MAY apply for submission in this annual exhibit by contacting JOHNNIE M. GILBERT AT jgilbert@tougaloo.edu or call the numbers listed below].
For additional information regarding the Tougaloo Art Colony, contact:
Minnie Watson
601-977-7839; e-mail at
mwatson@tougaloo.edu
Johnnie Mae Gilbert
601-977-7743
jgilbert@tougaloo.edu