Madhu Singh, Ph.D.
(University of Rajasthan, Jaipur)
Professor of Psychology


  601-977-7807


  msingh@tougaloo.edu
Biography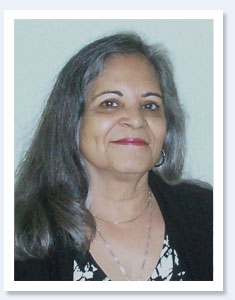 Madhu Singh received her Bachelors of Arts degree in Psychology at Indraprastha College in Delhi, India and her Masters of Arts degree in Industrial Psychology at the University of Delhi in Delhi, India. She received her Ph.D. in Vocational Psychology at the University of Rajasthan in Jaipur, India. Before joining the faculty at Tougaloo College in 2001, Dr. Singh taught at the Sawtell Learning Center (Montclair, NJ), Jesus and Mary College (India), and Sophia College (India). She is currently Professor of Psychology. Dr. Singh was a Faculty Fellow for NTSCOE on behavioral awareness in surface transportation, Co-PI on a Mississippi Delta Evaluative Research and Capacity Building Project, and Research Fellow at the National Institute of Mental Health and Neurosciences at Bangalore, India.
Dr. Singh is currently an Honors Fellow through the Mellon Grant and is working on the evolution of consciousness and emerging of common myths. She is also a Fellow in the Homeland Security Division. Dr. Singh teaches Psychology of Terrorism for the Honors Program, Ethics, Medicine and Technology for the Jackson Heart Study Program, and Psychological Dimensions of Disaster for Sociology's minor on Disaster Coastal Studies.
Dr. Singh loves to read, and likes classical music including both Western and Eastern, and Blues and Jazz, She loves to travel, and enjoys the wildlife.