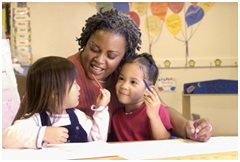 Bachelor of Arts in Child Development
New Cohort Start Dates:
May 24, 2015
July 19, 2015
September 13, 2015
November 1, 2015
The Bachelor of Arts in Child Development is a degree program preparing students for careers in early childcare education. Course content provides instructional field experiences.
NEW DEGREE PROGRAM COMING THIS FALL!!!
Bachelor of Interdisciplinary Studies (BIS)
The Bachelor of Interdisciplinary Studies is a bachelor's degree offered to allow students to design a customized and specific course of study to best suit their educational and professional objectives.
Contact
Vonda  Beaty,  ED. S
Coordinator of Continuing and Distance Education/Summer School
Office of Academic Affairs
   601-977-7912
   601-977-4503
   vbeaty@tougaloo.edu
Registration Options
On-Campus
You may register for Continuing Education courses several ways. You may register on campus, in the Continuing and Distance Education office.  The office is located in the Blackmon Administration office.  Office hours are 8:00 a.m.-5:00 p.m. Monday-Friday, and 8:00 a.m.-6:00 p.m. Monday-Thursday in June and July.  The phone number to the office is 601-977-7912.
By Telephone
You may email your application to continuingeducation@tougaloo.edu or fax it to 601-977-4503, then complete registration by charging your fees to MasterCard, Visa, Discover or American Express at 601-977-7715.
By Mail
Download and complete an Application for Non-Degree Students and mail it along with your payment to:
Tougaloo College
Office of Continuing and Distance Education/Summer School
500 West County Road
Tougaloo, MS 39174
Payment for Continuing Education courses is due at the time of enrollment. If you do not pay for the course at the time of enrollment, you will not be registered.
Refund Policy
| | |
| --- | --- |
| Time of Withdrawal | Percentage Refunded |
| One business day prior to first class meeting | 100% |
| Within one business day of the first class meeting and before the second class meeting | 50% |
| After the second class meeting | none |
Since Continuing Education classes are self-supporting, the decision to run a class is based on the number of people enrolled. The college reserves the right to cancel if sufficient enrollment is not achieved. Registrants will be notified by phone or mail if a class is canceled. Full refunds will be issued for classes canceled by the college.
Requests to withdraw should be submitted in writing to the Continuing Education office where the registration was processed. Calculation of refunds will be based on the date the written request is received by the office. If you have a situation that warrants an override of the above policy, an explanation of the circumstances should be made in writing to the office of Continuing Education. Refunds should be received within 30 days.