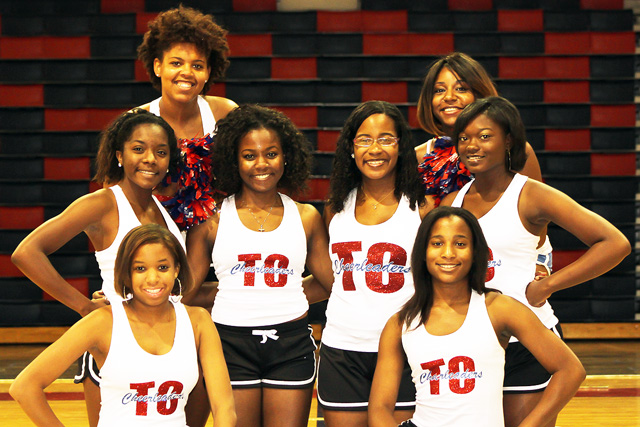 Tougaloo College Competition Cheer Squad for 2013
Top Left to Right: Glennecha Cain, Megan McLin
Center Left to Right: Keiera Davis, Margie Rayford, Kiplyn Taylor, Jasmine Jones
Bottom Left to Right: Jordan Gilmer, Joi Harris
Tougaloo College's Competition, POM and Dance squad (also known as Spirit Squad) for the 2014-2015 academic school year may consist of up to 20 students. This year ALL cheer squad members will participate in sideline cheerleading.  The first priorities of the Spirit Squad (cheer, dance & mascots) are 1) supporting our athletic teams on the sidelines at all home and local basketball games (usually around 7 to 9 games per semester), and 2) representing Tougaloo College in the community.
 All squad members must understand that they are to represent Tougaloo College with dignity, pride and professionalism at all times. The squad members must also understand that they are ambassadors of the College and must act appropriately during performances as well as when they are not performing. The squad members are students first and squad members second.
The Tougaloo College Mascot(s) is also a member of the Spirit Squad.
Upcoming Events:
If you are interested in becoming a Tougaloo College Competition Cheer or POM Cheer Squad Member, please submit a tryout application, make payment for application fee , attend cheer clinic and cheer tryouts. All returning cheerleaders must try out again each year. Current and returning Tougaloo College students who are interested in trying out must do so during the spring tryout ONLY.  If a tryout is held in the Fall, ONLY incoming freshman and transfers will be eligible to tryout.
Saturday, April 26, 2014
Begin Time: 1:30 PM
End Time: 5:00 PM
(End Time may change based on number of attendees)
Location: HolmesHall Auditorium (tentative)
Cheerleading Tryout Date
Sunday, April 27, 2014
Begin Time: 4 PM
End Time:  7 PM
(End Time may change based on number of attendees)
Location: HolmesHall Auditorium (tentative)
I.   ELIGIBILITY  -  (for candidates chosen for the 2014-2015  TC squad)
 A)       Each squad member must maintain a minimum semester and
           cumulative GPA of 2.5 in order to be eligible to cheer.
B)        Each squad member must enroll in a minimum of 12 units per semester
C)        Each squad member MUST be in good academic and disciplinary standing with your   
           college or high school.
D)       Each squad member MUST have completed a physical. 
E)       If I am a first year student or transfer student entering the college, I must meet the   
          admission requirements of the college and have received an acceptance letter.
F)       If I am selected, I must grant permission to release my semester and cumulative
          grades to Cheer Advisor for as long as I am a member.
G)       Each squad member MUST submit two letters of recommendations. Current Students
          must obtain at least one recommendation from one of their current instructors, advisiors,
          chair or dean.
H)       Each squad member MUST understand that judge(s) decisions are FINAL.
  II.        GENERAL POLICIES                                                                                                             
A)        The competition cheerleaders will participate in different fundraisers to raise the funds
            necessary for uniforms, competitions, etc.
B)        Each squad member must abide by rules and regulations as outlined in the Tougaloo
           College Student Handbook.
C)        All partner stunts, pyramids or basket-tosses of any kind will be regulated by the
           Tougaloo College Cheer trainer, coach and/or advisor and will comply with the regulations. 
           A SQUAD MEMBER NOT ADHERING TO THE RULES AND REGULATIONS SET
           FORTH WILL IMMEDIATELY BE DISMISSED FROM THE CHEER SQUAD.
D)        Seniority, behavior and attendance of practice, games and promotions may all be
           determining factors in choosing who will go to any away games that we may be invited to
           attend.
III.       TIME OBLIGATIONS
A)        Practices for the 2014-2015 Tougaloo College Cheer squad are TBA. Practice times     
           scheduled and set will be mandantory for all squad members.
B)        Dedication, time management skills and industriousness are attributes that cheer
           squad members will need to possess.  If you are unwilling to put forth the time for
           attendance at practices, games, fundraisers and volunteer services, you
           may not need to reconsider applying for cheerleading because it is a very time 
           consuming activity.
IV.     MISCELLANEOUS INFORMATION
Your current cheer coach/advisor may be called as a reference.
For additional informaiton , please contact:
Cheer Team Advisor - Carolyn Davis 


601-454-9985 (text preferably)
Assistant Advisor - Tammie Ross 


601-594-7102  (text preferably)