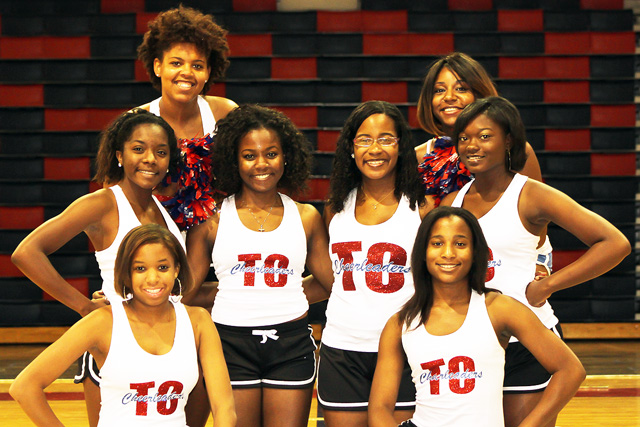 Top Left to Right: Glennecha Cain, Megan McLin
Center Left to Right: Keiera Davis, Margie Rayford, Kiplyn Taylor, Jasmine Jones
Bottom Left to Right: Jordan Gilmer, Joi Harris
The Competition Cheer Squad is a newly created cheer squad of women at Tougaloo College. It will consist of up to a maximum of 20 girls. The squad members will perform cheer or dance routines at selected men's and\or women's basketball games as well as practice to compete in cheer competitions under the direction of Kim Jones, Cheer Coach for Tougaloo College Competition Squad.  Carolyn Davis will assist as the Tougaloo College  liaison and competiton cheer squad advisor.  Some practices will be held at Miss Kim's Gymnastics and Cheerleading located at 5195 Old Brandon Road Pearl, MS 39208 and other practices will be held on the Tougaloo College Campus.  You may also need to attend strength training and conditioning.  
 All squad members must understand that they are to represent Tougaloo College with dignity, pride and professionalism at all times. The squad members must also understand that they are ambassadors of the College and must act appropriately during performances as well as when they are not performing. The squad members are students first and squad members second.
Academic minimum standards must be met prior to any practice or performance.
Please submit your tryout applications to the Athletics Office or email them to the Cheer Advisor. 
I.   ELIGIBILITY  -  (for candidates chosen for the 2013-14  TC squad)
 A)       Each squad member must maintain a minimum semester and
           cumulative GPA of 2.00 in order to remain eligible to cheer.
B)        Each squad member must enroll in a minimum of 12 units per semester
C)        Each squad member MUST be in good academic and disciplinary standing with the    
           college
D)       Each squad member MUST have completed a physical.  See tryout packet for more details.
E)       If I am a first year student or transfer student entering the college, I must meet the   
          admission requirements of the college.
F)       If I am selected, I must grant permission to release my semester and cumulative
          grades to Cheer Advisor and Athletic Director for as long as I am a member.
G)       Each squad member MUST submit two letters of recommendations.  See try out packet for more details.
H)       Each squad member MUST understand that judge(s) decisions are FINAL.
  II.        GENERAL POLICIES                                                                                                              
A)        The competition cheerleaders will participate in different fundraisers to raise the funds
            necessary for uniforms, competitions, etc.
B)        Each squad member must abide by rules and regulations as outlined in the Tougaloo
           College Student Handbook.
C)        All partner stunts, pyramids or basket-tosses of any kind will be regulated by the
           Tougaloo College Cheer coach and/or advisor and will comply with the regulations. 
           A SQUAD MEMBER NOT ADHERING TO THE RULES AND REGULATIONS SET
           FORTH WILL IMMEDIATELY BE DISMISSED FROM THE CHEER SQUAD.
D)        Seniority, behavior and attendance of practice, games and promotions will all be
           determining factors in choosing who will go to any away games we are requested to be at
           or any tournaments or competitions.
III.       TIME OBLIGATIONS
A)        This is Tougaloo College's first competition squad; thus the Practices for
            the 2013-2014 Tougaloo College Cheer squad are TBA.
B)        Competition Schedule information are TBA.  This depends on the skills set and
            readiness of the squad.
IV.     MISCELLANEOUS INFORMATION
As a member of the Tougaloo College Competition Cheer Squad, you may have to cheer at some of the men's and/or women's basketball games during half time.  You may also be requested to cheer as a sideline cheerleader at the games in additional to performing at half time.
You will participate in or assist with fund-raisers, and special engagements that may be requested by the Tougaloo College Athletic Department.
Your current cheer coach/advisor may be called as a reference.
For additional informaiton , please contact:
Cheer Team Advisor - Carolyn Davis 


601-454-9985